NHTSA ID Number: 10171094
Manufacturer Communication Number: 15-254-19R
Summary
The first TomTom map update for Gen 3.0 Harman navigation equipped vehicles was made available.
6 Affected Products
Vehicles
---
NUMBER: 15-254-19R
DATE: 11/08/19
REVISED: 01-28-20
APPLICABILITY:
2018MY Legacy and Outback w/8-inch Navi System
2017-18MY Impreza with 8-inch Navi System
2018MY Crosstrek with 8-inch Navi System
2018MY BRZ with 7-inch Navi System
SUBJECT:
Map Data Update Procedure for Harman Gen 3.0 Navigation Equipped Head Units (H/U)
INTRODUCTION:
On August 23rd, 2018, the first TomTom map update for Gen 3.0 Harman navigation equipped vehicles was made available.  While the map update process is user-friendly, we ask that retailers assist customers with the map update procedure when requested as a courtesy, an opportunity to build retailer loyalty, enhance customer satisfaction and in keeping with the Love Promise.  Retailers may also want to install this map update on any certified pre-owned or pre-owned vehicles in their inventory on their own.  The site (dealer.subaru-maps.com) which is unique for retailers, is not the same as what customers will be accessing at home.  If Service, Sales, and/or Parts Managers do not have a login, create an account from this page. There may be a short delay while retailer approval is pending.
Materials Required:
A PC or MAC computer / laptop
A valid e-mail address
USB 2.0 or 3.0 drive, at least 16GB in size (recommended device brands: SanDisk®, Kingston®, Transcend® or Verbatim®)
TSB 15-211-17R for reference.
SERVICE PROCEDURE / INFORMATION:
CAUTION:  NEVER attempt to install this software update on any 2019 or 2020 MY vehicles as they are equipped with Gen 3.1 Navigation systems. This update is ONLY for models equipped with Gen 3.0 Navigation systems. Should an attempt be made to install any of these files into a Gen 3.1 H/U, the USB Authentication error screen below will be displayed.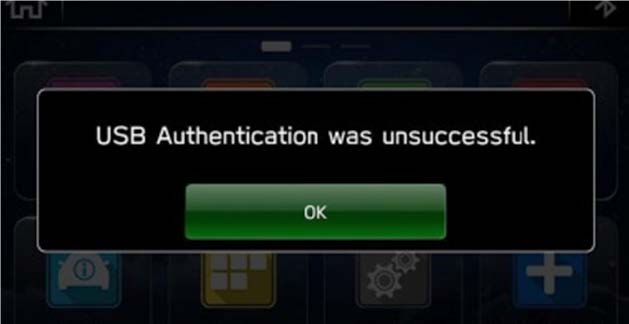 The USB Authentication error screen will also be displayed when attempting to install the map data bundled with a software version older than the version already installed in the H/U.
Move the vehicle to an outside location where the engine can be safely started and kept idling during the update process.
Never idle the vehicle in a closed space such as a garage, even if the garage door is open.
Once the vehicle is in a safe location, be sure the vehicle is in Park if CVT or Neutral if MT and the parking brake is fully engaged.
Unplug any cables or devices from the USB ports.
NOTE:  The update process involves downloading and installing the software update so, time duration will depend on communication and available data transfer rate.  During the update installation, H/U functionality will be restricted.
These updates are applicable to the following vehicles and Navigation equipped H/U part numbers:
The POST-UPDATE software version ID is Rel_A1.19.45.20 for all applicable models.
Step 1: Prepare the USB with the Map Data:
Go to dealer.subaru-maps.com.
Create an account. A valid email address is required to complete this process.
Download and install the Map Downloader application for Mac or PC using the link provided on subaru-maps.com.
Open the app and login with the newly-created account information.
Press the "+" button on the bottom right to add a vehicle using the customer's VIN.
Click the UPDATES tab to check for any available updates. If an update is available, click START to begin the download.  NOTE: These updates might take some time to complete as the map files are large and data transfer rates vary.
When the download is complete, plug the USB drive into the PC. Click "START INSTALLATION".  NOTE: All existing data on the USB will be deleted.
Once complete, properly EJECT / REMOVE the USB device from the PC and proceed to the vehicle.
Step 2. H/U Map Update:
Follow the Service Procedure provided in TSB 15-211-17R: Step 1 and Steps 5-9 as applicable to update the H/U.
IMPORTANT REMINDERS:
SOA strongly discourages the printing and/or local storage of service information as previously released information and electronic publications may be updated at any time.
Always check for any open recalls or campaigns anytime a vehicle is in for servicing.
Always refer to STIS for the latest service information before performing any repairs.
---
NUMBER: 15-254-19R
DATE: 11/08/19
REVISED: 01-28-20
https://www.nhtsa.gov/recalls?nhtsaId=10171094
https://static.nhtsa.gov/odi/tsbs/2020/MC-10171094-0001.pdf
---
NUMBER: 15-254-19
DATE: 11/08/19
https://www.nhtsa.gov/recalls?nhtsaId=10168606
https://static.nhtsa.gov/odi/tsbs/2019/MC-10168606-0001.pdf
---
Sale
Bestseller No. 1
Samsung BAR Plus USB 3.1 Flash Drive 128GB - 300MB/s (MUF-128BE3/AM) - Champagne Silver
COMPACT FLASH DRIVE: Exceptionally compact Samsung FIT Plus USB flash drive for instant storage of your photos, videos, music, and files on laptops, tablets, TV's, car audio systems, gaming consoles and more
QUICK AND CONVENIENT READ SPEEDS: Redefine everyday file transfers with read speeds up to 300MB/s; USB 3.1 flash drive with backwards compatibility (USB 3.0, USB 2.0)
SEAMLESS FITTING RUGGED DESIGN: The seamless fit features a rugged metal casing for durability with key ring to prevent loss
BUILT TO LAST RELIABILITY: Shock proof flash drive is also water proof, temperature proof, x-ray proof and magnetic proof
5-YEAR LIMITED WARRANTY: 5-year limited warranty
Bestseller No. 2
Sale
Bestseller No. 3
Micro Center SuperSpeed 2 Pack 64GB USB 3.0 Flash Drive Gum Size Memory Stick Thumb Drive Data Storage Jump Drive (64G 2-Pack)
HIGH DATA TRANSFER SPEED USB 3.0 flash drive with read/write transfer speeds up to 70MB/s and 5MB/s respectively. Backward-compatible with USB 2.0 and transfer faster. Rear LED indicator lights while reading/writing
SLIM FIGURE YET LARGE STORAGE Gum size usb flash drive with 64GB capacity, meet your needs of daily use on work, school, home and travelling for photos, music, videos, files storage and transfer
PLUG AND PLAY Just plug the thumb drive then start data storage, backup and transfer between devices and locations. It supports Windows OS and compatible with PC, Laptop, TV, Car, Audio and etc
SLEEK AND PRACTICAL DESIGN The memory stick's hard plastic cover prevents rough treatment. Multiple colors for easy clarify. Cap protects USB plug and the rear easily attached loop prevents lost
RELIABLE DATA STORAGE OPTION The Micro Center USB Flash Drive is constructed from quality components and strictly tested to offer well performance. Backed by 2 years warranty, giving you worry free use, a pen drive you can count on
Sale
Bestseller No. 4
Bestseller No. 5
Sale
Bestseller No. 6
Sale
Bestseller No. 7
Sale
Bestseller No. 8
SanDisk Ultra Flair 128GB USB 3.0 Flash Drive - SDCZ73-128G-G46
High-speed USB 3.0 performance of up to 150MB/s. NOTE:Kindly refer the user manual before usage of the product
Transfer a full-length movie in less than 30 seconds
Transfer to drive up to 15 times faster than standard USB 2.0 drives
Sleek, durable metal casing. Operating temperature : 32° - 113° F (0° – 45° C)
Easy-to-use password protection for your private files
Bestseller No. 9
Bestseller No. 10
Last update on 2020-04-08 / Affiliate links / Images from Amazon Product Advertising API
Last update on 2020-04-08 / Affiliate links / Images from Amazon Product Advertising API