NHTSA ID Number: 10154418
Manufacturer Communication Number: 05-67-19
Summary
This bulletin announces a slight design change made to the sealing areas of the wheel hub assemblies for the models as listed above. The change was made to enhance productivity during the vehicle assembly process.
8 Affected Products
Vehicles
---
INTRODUCTION:
This bulletin announces a slight design change made to the sealing areas of the wheel hub assemblies for the models as listed above.  The change was made to enhance productivity during the vehicle assembly process.
PRODUCTION CHANGE INFORMATION:
The new parts were incorporated into production as a running change therefore, there will be no starting VIN information available.
PART INFORMATION:
NOTE:  Since there is no difference in performance between the new and old parts, mixing the old and new part numbers is acceptable.  In the case of in-stock parts, use up any inventory of the old part numbers first.
Description
Part Number
Application
HUB COMPLETE- FRONT AXLE
28373XC00A
2015-18MY LEG / OBK
HUB COMPLETE- REAR AXLE
28473XC00A
HUB COMPLETE- FRONT AXLE*
28373VA020
2015-19MY WRX
HUB COMPLETE- REAR AXLE
28473VA010
* Includes an identification groove as pictured below.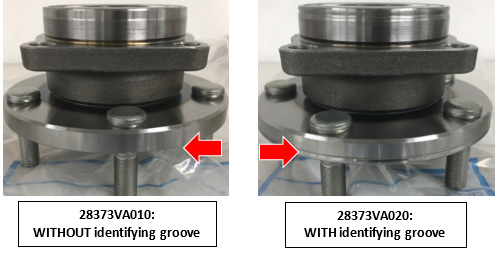 SERVICE PROCEDURE / INFORMATION:
REMINDER:  Customer satisfaction and retention starts with performing quality repairs.
The service procedures for replacing the front and / or rear hub assembly remain unchanged.  Always refer to the applicable Service Manual and review the full requirements of the repair being performed.  The Service Manual procedures contain information critical to performing an effective repair the first time and every time.  This includes but is not limited to: important SAFETY precautions, proper inspection criteria, necessary special tools, required processes and related onetime-use parts needed for a complete and lasting repair.
---
APPLICABILITY: 2015-18MY Legacy and Outback
SUBJECT: Wheel Hub / Bearing Assembly- Design Change
WARRANTY / CLAIM INFORMATION:
For vehicles within the Basic New Car Limited or Powertrain Limited Warranty period or covered by an active Subaru Added Security Powertrain, Classic or Gold plan, this repair may be submitted using the following claim information:
| | | | |
| --- | --- | --- | --- |
| Labor Description | Labor Operation # | Labor Time |  Fail Code |
| FRONT LEFT HUB UNIT BEARING | A611-187 | 0.8 | NCB-25 |
| FRONT RIGHT HUB UNIT BEARING | A611-188 | 0.8 | NCA-25 |
| BOTH FRONT HUB UNIT BEARINGS | A611-189 | 1.2 | NAW-25 |
| REAR LEFT HUB UNIT BEARING | A612-235 | 0.8 | NCD-25 |
| REAR RIGHT HUB UNIT BEARING | A612-241 | 0.8 | NCC-25 |
| BOTH REAR HUB UNIT BEARINGS | A612-236 | 1.1 | NAX-25 |
IMPORTANT REMINDERS:
SOA strongly discourages the printing and/or local storage of service information as previously released information and electronic publications may be updated at any time.
Always check for any open recalls or campaigns anytime a vehicle is in for servicing.
Always refer to STIS for the latest service information before performing any repairs.
---
NUMBER: 05-67-19
DATE: 01/24/19
https://www.nhtsa.gov/recalls?nhtsaId=10154418
https://static.nhtsa.gov/odi/tsbs/2019/MC-10154418-9999.pdf
---
Bestseller No. 1
Abn Axle & Front Wheel Hub Puller – Flange Type Tool 3-3/4 to 4-1/2 Inches Power Steering Pulley Remover Hub Grappler
EASY BRAKE & BEARING REPAIR: The ABN Axle Remover & Front Wheel Puller Hub Grappler Tool makes for easy brake and bearing maintenance
WORKS ON YOUR VEHICLE: Compatible fit on domestic and import vehicles with independent front wheel suspension; Use on any vehicle with studs that are inside the drum and has a tapered axle and 4-6 lugs
VARIOUS APPLICATIONS: Use this hub grappler on 4, 5, or 6 bolt stud design and all non-C lock GM axles
BUILT TO LAST: Heated pressure screw holds up to tough use; Drive center hole for the wheel studs and are constructed from heat-treated alloy steel that is drop forged for maximum strength and longevity that resists rust and corrosion
PERFECT SIZE: Yoke and bolt are threaded 5/8-inch x 18 inches to best suit most vehicle applications
Bestseller No. 2
Orion Motor Tech 9-Way Slide Hammer Puller Set, Front Wheel Hub Bearing Remover & Rear Wheel Axle shaft Puller Tool Kit
Slide Hammer Puller Set ---- Ideal for pulling on press-fit and flange-type parts, such as: rear axle shafts, front-wheel drive hubs, bearings, bushings, gears, pulleys, etc.
Internal and External Jaws ---- Include 2-jaw and 3-jaw puller for internal and external pulling work, provide a variety of combinations to pull bearings gears and seals, two- and three-way cross blocks and cone provide the perfect jaw configuration for most jobs.
Multi-functional Puller Set ---- Includes a grip wrench adapter and a dent puller attachment for sheet metal or other unique pulling requirements, all the tools are placed in a blow mold storage case for simple organization and transportation.
Heavy Duty Tool Kit ---- 5-pound steel slide hammer constructed of chrome vanadium steel for smooth operation, improved durability, corrosion resistance, perfect for professional machinists..
All-in-one Tool Set ---- Complete 15 piece set for a wide range of pulling applications, including: Slide Hammer, Puller Head, Pulling Adapter, Cross Block, Internal / External Puller Jaw, Hex Jaw Nuts & Screws (3), Vise Grip Adapter (single-lead thread), Seal Hook, 3-Way Puller Head, Cone, Self-Tapping Screw and Retainer.
Bestseller No. 3
OrionMotorTech 23-Piece FWD Front Wheel Drive Bearing Adapters Puller Press Replacement Installer Removal Tool Kit
ALL-IN-ONE KIT, everything you need for a fast & effective removal and installation of wheel bearings on front wheel drive vehicles; easily replaces wheel bearings while keeping the steering knuckle and strut assembled in tact on the vehicle
EFFECTIVE KIT, designed to work with the steering knuckle and strut assembly still on the vehicle, eliminating the need for front end alignment after service work
UNIVERSAL COMPATIBILITY, designed for front wheel drive cars and small trucks; comes with a premium well-organized ABS box for easy storage and transport
STURDY & ANTI-RUST, heavy-duty carbon steel construction; black anodic oxidation for ultimate anti-rust performance
ORION MOTOR TECH - We pursue outstanding quality and professional technical support. If you are not satisfied with this product or if you have any question, please feel free to let us know. (WARNING!!! AVOID using an impact wrench, improper usage may cause DAMAGE to NUT/BOLT)
Bestseller No. 4
Sale
Bestseller No. 5
Bestseller No. 6
TruePower 20-2029 Universal Hub Puller
Can be adjusted by legs to an 7-1/2 inch diameter bolt circle
Adjustable sliding arms
Made of alloy steel and drop forged
Includes striking wrench and puller screw
Won't distort wheel lugs
Bestseller No. 7
5 Ton 3 Jaw Hydraulic Gear Puller, Wheel Bearing Hub Removal Tool with Work Gloves and Storage Box
The Chromex Tools Hydraulic Gear Puller is made of high quality, forged steel components that provide superior reliability and service Suitable for pulling hubs, flanges, gears, pulleys, flywheels, bearings and chucks from shafts.
Reversible jaws for pulling inside or outside. Use with 2 or 3 Jaws. Pump head can be rotated 360°.
Compact design with a self contained, portable hydraulic pump and puller saves space, as you don't need a separate pump, hose or puller.
Handle Size: 15" Max Pulling Force - 5 Tons (10,000 Lbs.).
Includes grip handle, storage case and work gloves. Wear safety goggles during use.
Bestseller No. 8
CARTMAN Slide Hammer Puller Set
Ideal for internal and external pulling on bearing cups, stubborn oil seals, Bushings, and many press fitted parts.
Features: Internal and External Three Leg and Two Leg jaw puller yokes.
5lb. Slide Hammer, 425mm long, 5/8"UNF thread
Front Hub puller, Rear Axle puller, Locknut Cone
Dent puller screws (large and small), Supplied in blow mold storage case.
Sale
Bestseller No. 9
OTC 6290A Front Hub Puller
For removal of the front hub assembly; necessary for wheel bearing or brake rotor service
Provides the mechanical advantage and straight pull not possible with a slide hammer; for 4WD vehicles
Services 1988-2013 GM 1/2-ton, 3/4-ton, and 1-ton trucks, Tahoe, Suburban, and Yukon
Services 1994-2013 Dodge 3/4-ton and 1-ton RAM trucks
Services 1998-2013 Ford 3/4-ton and 1-ton trucks and Excursion
Sale
Bestseller No. 10
OTC Tools 6575-1 Hub Grappler Puller
Specifically designed to apply maximum force with minimal effort from an impact gun to also minimize service time
The jaws are designed and sized to properly fit hub applications
Can be quickly located on the puller bar without the use of fasteners
The 3/4" custom drive screw coupled with the special equalizer washer provides smooth operation
The proprietary heat treating extends its life 5-10 times longer than similar designs
Last update on 2020-01-27 / Affiliate links / Images from Amazon Product Advertising API
Last update on 2020-01-27 / Affiliate links / Images from Amazon Product Advertising API