NUMBER: 16-95-15
DATE: 08/06/15
INTRODUCTION
This bulletin provides a diagnostic procedure for confirmation of a suspected CVT chain slip condition.  Examples of customer concerns may be:  abnormal transmission operating sounds, a shudder or vibration sensation, lack of power, hesitation, engine rpm rise without increase in vehicle speed or in isolated cases, a Check Engine Lamp illumination (with engine misfire DTCs stored in the ECM memory).
SERVICE PROCEDURE / INFORMATION
NOTE:  The current Service Manual diagnostic procedures for engine misfire DTCs does not identify CVT chain slip as a possible cause.
IMPORTANT:  Confirm the TCM has the most updated software version for Primary Pulley Oil Pressure Circuit installed as per TSB 16-93-15.  If not, update the TCM as needed before proceeding further.
ALWAYS road test the vehicle to confirm the customer's concern before beginning this diagnostic procedure.
Using the SSMIII or 4, select the following data for sampling using High-Speed mode:

Engine RPM
Turbine Speed
Accelerator Opening Angle
Front Wheel Speed
Primary Pulley Speed
Actual Gear Ratio
Actual Secondary Pressure
Secondary Set Current
Primary UP Duty
Primary DOWN Duty
Vehicle Speed
ATF Temperature
Actual Forward and Reverse Linear Solenoid Current

With the transmission at operating temperature (CVTF temperature at 140 – 176°F), follow the procedure in the Diagnostic Chart below while driving the vehicle between 40-60 MPH on a flat road surface. Record then mark and save the data when the condition is verified.
Compare your saved data to sample data graphs provided below to complete your diagnosis.
*Diagnostic Chart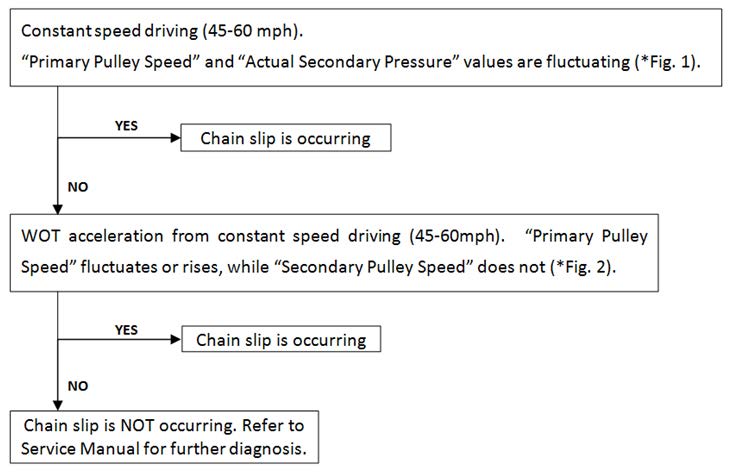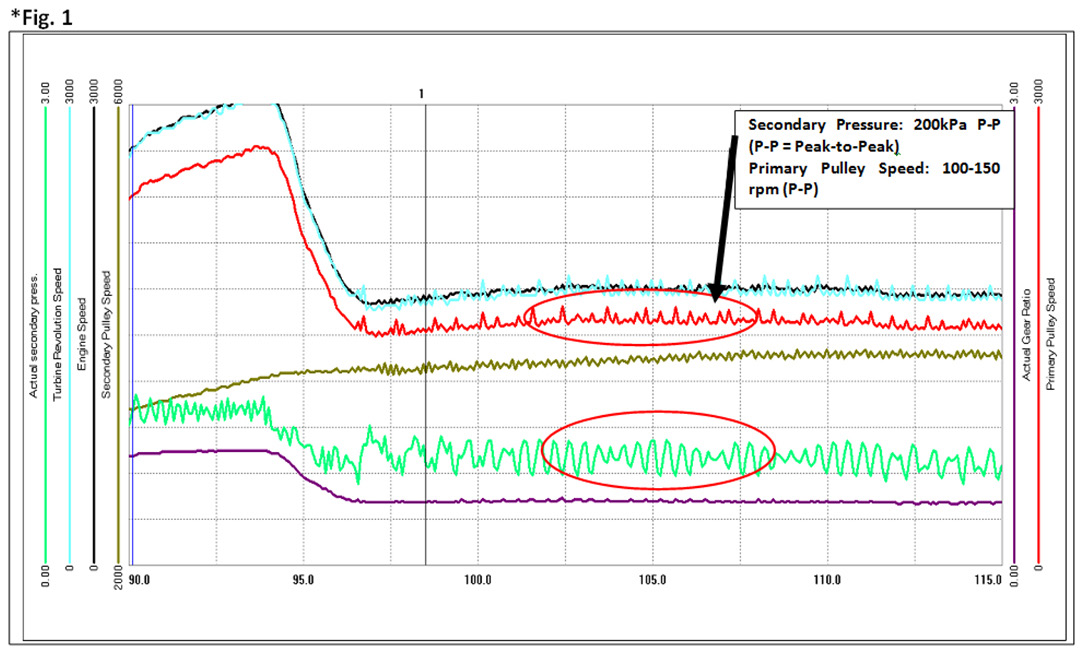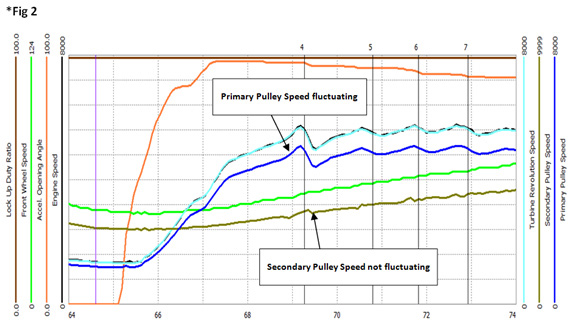 Whenever CVT Chain Slip has been confirmed, replace the CVT assembly following the procedures in the Subaru Claims Policy and Procedure Manual and the applicable Service Manual.
WARRANTY / CLAIM INFORMATION
For vehicles within the Basic New Car Limited or Powertrain Warranty period or vehicles with an active Added Security Classic, Gold or Powertrain plan, this repair may be claimed using the following information:
LABOR DESCRIPTION
LABOR
OPERATION #
FAIL
CODE
LABOR
TIME
NEW CV TRANSMISSION R&R

(Includes use of Engine Holding Tool)

B303-001
MQJ-24
3.4
NEW CV TRANSMISSION ASSY. REPLACEMENT

(Includes Learning Procedure and flushing the fluid cooler)

C303-041
0.2
CVT ELECTRICAL TESTING and DIAGNOSIS (Can be claimed 1 time only)
C303-711
0.5
REMANUFACTURED CV TRANSMISSION ASSY. R&R (Includes: transfer of all components, adjustments, electrical / line pressure testing, cleaning / flushing of the fluid cooler and lines, Learning Procedure where applicable and completion of necessary exchange unit paperwork)
A139-301
TMA-24
4.9
REMINDER:  SOA strongly discourages the printing and/or local storage of service information as previously released information and electronic publications may be updated at any time.
Always refer to STIS for the latest service information before performing any repairs.