NUMBER: 07-106-16R
DATE: 02/08/16
REVISED: 03/07/16
INTRODUCTION:
This bulletin announces a change to the battery sensor to prevent unnecessary occurrence of DTC P1C00 being set / stored in the ECM memory.
PRODUCTION CHANGE INFORMATION:
The new battery sensor was incorporated into production as per the chart below:
VEHICLE / MODEL
ENGINE
STARTING VIN
Legacy
2.5L
G*017229
3.6L
G*017228
Outback
2.5L
G*237404
3.6L
G*237414
WRX
2.0L
G*818262
PART INFORMATION: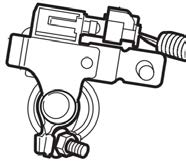 SERVICE PROCEDURE / INFORMATION:
Although DTC P1C00 alone does NOT cause the Check Engine light to come on, it will likely be found when checking for any stored DTCs in the ECM.  If the battery sensor is not replaced after identifying a stored P1C00, it will reset after clearing the memory on the next key cycle.  When P1C00 is found in memory of a vehicle built prior to the production change, replace the battery sensor following the procedure in the applicable Service Manual.
WARRANTY / CLAIM INFORMATION:
For vehicles within the Basic New Car Limited Warranty period or covered by a Subaru Added Security Classic or Gold plan, this repair may be submitted using the following claim information:
LABOR DESCRIPTION
LABOR
OPERATION #
FAIL
CODE
LABOR
TIME
BATTERY AMP SENSOR R&R
A800-132
FAF-42
0.2 – Legacy & Outback
0.4 – WRX
IMPORTANT REMINDERS:
SOA strongly discourages the printing and/or local storage of service information as previously released information and electronic publications may be updated at any time.
Always check for any open recalls or campaigns anytime a vehicle is in for servicing.
Always refer to STIS for the latest service information before performing any repairs.
Price Disclaimer