NUMBER: 04-22-18
DATE: 09/17/18
APPLICABILITY:
2017-18MY Impreza
2018MY Crosstrek
2019MY Ascent
SUBJECT:
Rattle Sound from Steering Rack on Rough Roads
INTRODUCTION:
This bulletin announces availability of a new electric power steering (EPS) rack assembly.  The new EPS assembly addresses a limited number of customer concerns involving a rattling-type sound from the steering which may be heard when driving on rough roads.
PRODUCTION CHANGE INFORMATION:
The new EPS assembly was incorporated into production as per the table below:
PART INFORMATION:
Description
Part Number
Applicability
STEERING GEAR BOX ASSEMBLY, EPS
34110FL00D
Impreza 4 and 5-Door
34110FL071
Crosstrek
34110XC00B
Ascent
SERVICE PROCEDURE / INFORMATION:
REMINDER:  Customer satisfaction and retention starts with performing quality repairs.
The service procedures replacing the EPS rack assembly remain unchanged.  Always refer to the applicable Service Manual and review the full requirements of the repair being performed.  The Service Manual procedures contain information critical to performing an effective repair the first time and every time.  This includes but is not limited to: important SAFETY precautions, proper inspection criteria, necessary special tools, required processes and related one-time-use parts needed for a complete and lasting repair.
ADDITIONAL EPS AND ASSIST MOTOR ASSEMBLY DETAIL: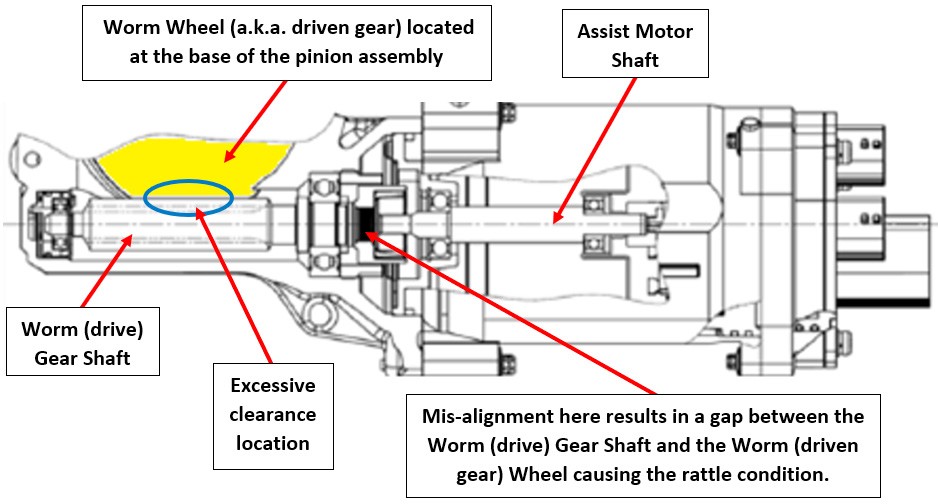 WARRANTY / CLAIM INFORMATION:
For vehicles within the Basic New Car Limited Warranty period or covered by an active Subaru Added Security Classic or Gold plan, this repair may be submitted using the following claim information:
Labor Description
Labor  Operation #
Labor
Time
Applicability
Fail
Code
EPS GEARBOX ASSY R&R FOR RATTLE  Includes: all repair work as listed in the Service Manual, toe adjustment, steering mid-point setting and Lane Keep learning clear (when needed).
B659-031
1.5
Impreza
RDK-25
Crosstrek
2.6
Ascent
SUBLET REPAIR, ADMINISTRATION EXPENSES
C101-108
0.3
All
IMPORTANT REMINDERS:
SOA strongly discourages the printing and/or local storage of service information as previously released information and electronic publications may be updated at any time.
Always check for any open recalls or campaigns anytime a vehicle is in for servicing.
Always refer to STIS for the latest service information before performing any repairs.
---
NUMBER: 04-22-18
DATE: 09/17/18
https://www.nhtsa.gov/recalls?nhtsaId=10146479
https://static.nhtsa.gov/odi/tsbs/2018/MC-10146479-9999.pdf
---
Sale
Bestseller No. 1
Autel MK908P Automotive Diagnostic Scanner with ECU Coding and J2534 Reprogramming with Free Maxi TPMS PAD
As an upgraded version of the MS908P,same function as MS908S PRO and MaxiSys Elite. This superior diagnostic device is awarded as the Best Vehicle Diagnostic Tool in Britain, and characterized by its high-end diagnostic features with easy-to-use operations. It's an ultimate car scanner for DIYers, experienced mechanics, even garage to finish professional-level vehicle repair and maintenance.
This top-level OBD2 scanner comes with a SAE J2534-1 & -2 compliant PassThru reprogramming interface device which allows you to use the updated OEM software to replace the existing software/firmware in ECUs, programming new ECUs for Benz/BMW and fixing software-controlled drivability issues and emission issues.
This Android4.4 based high-end car scanner is designed with the advanced hardware configurations including super-fast hexa-core Processor, 2GM RAM, 64GB On-board Memory, 8.0 Megapixel rear cam, ultra-clear 10.1 inches LED screen etc. for users to detect the problems of the given vehicle efficiently and accurately.
This diagnostic scan tool is built for testing more than 80 US, Asian and European vehicle makes and you can use it to test more vehicles when you complete the update at our official website once in a while. It is basically a bidirectional scanner that allows you to send and receive data to and from a car's control modules.
In order to bring convenience for users to manage all the data and parameters stored in this diagnostic tool, Autel MK908P supports the following user-friendly managing functions: Shop Manager Operation, MaxiFix Operation, Data Manager Operation, etc. to quickly and directly select the required referring information while diagnosing.
Bestseller No. 2
Bestseller No. 3
Bestseller No. 4
Autel MaxiSys Pro MS908P Automotive Diagnostic Tool (Same Functions as MaxiSySElite) with WiFi Bluetooth Jbox J2534 VCI ECUs BCM PCM Reprogramming and Coding
【J2534 ECU Programming】 MS908P has been designed to perform some of the most complicated engine diagnostics and reprogramming in BMW and Mercedes Benz. With the jbox/J2534 VCI or BMW Ethernet Cable, you can edit the cars performance data, like adjusting RPM, fuel injection, etc. A professional car diagnostics scanner to save time/effort on repairs and dramatically improve the cars' lifespan/performance.
【Comprehensive Features】 Besides Coding and ECU programming functions, the scan tool supports reprogramm keys, Bi-directional control, ative test, ABS bleeding,complete capabilities for codes, live data, actuation tests, adaptations, prints out recorded data with Wi-Fi. Save the money cost in buying an additional expensive adapter. Warm tips Benz-14 & Chang'an-3 Adapters only for UK version, not US version.
【User Friendly】 The Live Data Stream displayed the real time PID data from ECU and the displayed data included analog inputs and outputs, digital inputs and outputs, and system status information broadcast. The graphic display greatly improved the readability and understandability of above parameters. This is definitely a perfect scan tool for enthusiasts interested in knowing how their car is running.
【Operate Easily】 The hardware can equal to a best rank android tablet in the market and that made the whole diagnostic procedure more quickly and precisely. Maxisys platform, cloud-based Maxisys provide a large amount of data about the diagnosis and repair advices, that's really helpful, whenever you encounter problems, you can find solutions from it.
【Compatible with Some Add-ons】 Combination with Oscilloscope MaxiScope MP408 and Digital Inspection Cameras MV108, the power of this tool is amazing and the detail you receive about every component of the vehicle makes pinpointing a problem painless. Affordable combination of MS908P and TS601 supports TPMS programming, which turns into a powerful diagnostic tool.
Bestseller No. 5
Autel MaxiCOM MK808 Automotive OBD2 Scanner (Combination of MaxiCheck Pro and MD802 All Systems) with Oil Reset, EPB, BMS, SAS, DPF, TPMS and Immobilizer
Advanced Functions : Read/clear codes for all available systems ( including engine, transmission, ABS and AIRBAG ), Bi-directional control ability. Support auto bleed test, Forced DPF regeneration and adjusting injectors. Relearn parking brake pad after replacement (brake reprogramming) and IMMO functions (key configuration).
Superior Features : Relearn/ reset throttle body positions. Reset Steering Angle Sensor (SAS, steering wheel calibration). Reset service mileage and service intervals. TPMS sensor relearn, Battery registration and reset, Reading automatic gearbox. Shows the vehicle's operation graphs. Adjust idle/ Relearn idle, Cycle the abs system to evacuate air, Bleed ABS pump/ ABS bleeding brake.
Cost-Effective : The automotive diagnostic scanner supports basic TPMS Service (Tires Pressures Monitoring System) including displaying sensor IDs from vehicle's ECU by inputting TPMS sensor replacement IDs and registering sensors to vehicle.
Extensive Vehicle Coverage : This diagnostic scanner is compatible with all OBD2 protocols and works on over 80 US, Asian and European vehicle makes after 1996. Smart AutoVIN technology for identifying vehicles easily. IMMO, the unique function MK808 is mainly used to disable the lost vehicle keys and program a new replacement key fob.
Update : Automatic system and software updates with real-time push message notifications via Wi-Fi. The most competitive advantage of MK808 is its add-on services for the well data arrangement and better using experience.
Sale
Bestseller No. 6
Autel MK908 Ultimate Wireless Automotive Scan Tool with ADAS, ECU Coding, Full Bi-Directional Control, ABS Brake Bleed, OE-Level All Systems Diagnosis OBD2 Scanner, Advanced Ver. of MS908 MS906 MK808
🚗 ULTIMATE WIRELESS SCAN TOOL: Being the most advanced Autel bluetooth diagnostic tool, Autel MaxiCom MK908 is equipped with the best hardware, combined with the best possible coverage of OE-level diagnostics, practical functions like ECU coding, auto VIN scan, complete OBD2 functions like rea and, erase codes, live data, freeze frame, I/M readiness status, O2 Monitor Test, component test and data printing. BT pairing between the diagnostic table and the MaxiVCI Mini dongle is fast.
🚗 DRIVE SAFER WITH ADAS CALIBRATION: Drive safer with the comprehensive & precise ADAS calibrationl. It supports the calibration of multiple driver assistant systems, including Adaptive Cruise Control (ACC), Night Vision System (NVS), Lane Departure Warning (LDW), Blind Spot Detection (BSD), Around View Monitoring (AVM), Rear Collision Warning (RCW) and Heads-up Displays (HUD) for Benz, BMW, Audi, VW, Porsche, Infiniti, Lexus, GM, Ford, Volvo, Toyota, Nissan, Honda, Hyundai and Kia.
🚗 ALL CAR SYSTEMS DIAGNOSIS: MK908, being the the most complete and advanced diagnostic scanner, it reads and erases codes and perform OE-Level disgnosis on all car systems, including Oil Reset, ABS, SRS, Airbag, EPB, BMS, SAS, DPF, TPMS, IMMO Keys, transmission, change tire size, headlight and etc and show custom live data of multiple sensors in text or graph.
🚗 FULL BI-DIRECTIONAL CONTROL: MK908 OBD2 scanner comes with full bi-directional control to check the operating conditions of various car systems and components like Anti-lock Braking System and the Supplemental Restraint System, car windows, doors and roof. It can also perform special functions such as ABS Brake Auto Bleed, Pump Motor Test,TPMS sensors relearn, IMMO (Anti-theft matching), key fob programming, checking Module information and etc.
🚗 12 MONTH WARRANTY AND ONLINE UPDATE: You deserve a Autel MK908 Ultimate Wireless Diagnostic Tool and so does your car. This diagnostic computer is backed by 45 Day Mony Back Guarantee and 12 Months US Seller Warranty and 12 Months FREE software online update. Hit the orange buy now button and start driving safer today!
Sale
Bestseller No. 7
Forscan ELM327 Scanner OBD2 USB ELMconfig FoCCCus Diagnostic Scan Tool with MS-Can/HS-Can Switch for Ford Mazda for Windows
Forscan ELM327 with stable Hardware V1.5, Support all OBD2 Protocols, this device works as normal OBD2/EOBD code reader on most supported vehicles.
Ford ELMconfig USB device with Constant speed set to 500000 baud (500 kbit/s),Design with Switch : MS CAN bus and HS CAN bus mode.
Special Function: Add functionality for Ford cars, Even support hidden function for ford Focus Mondeo Kuga.(Hidden function Support car list: 2006-2016 classical for Focus , 2012-2015 new for Focus , 2013-2015 Kuga)
Powerful Softwares Compatible: FORScan, Elmconfig, FF2 and FoCCCus, Scanmaster plus more
Drivers and instructions included,for 32 /64 bite Windows,Easy to install.
Bestseller No. 8
Autel Maxisys Pro MS908p Wifi Automotive Diagnostic Tool with J2534 ECU Programming Free Updated Online
The MaxiSys Diagnostic Platform is an evolutionary smart solution for specialized automotive diagnosis and ECU programming
Extensive vehicle coverage for more than 80 US, Asian and European vehicle makes
9.7 inch 1,024x768 LED-backlit glossy widescreen Multi Touch display with IPS technology
Complete capabilities for codes, live data, actuation tests, adaptations, coding and ECU programming
One Year Free Update Online, Free Shipping by DHL All Around the World, 3-5 Days Delivery
Bestseller No. 9
Autel MK908P J2534 (Upgraded MS908P MaxiSys Pro) Diagnostic Scanner with Jbox ECU Reprograming/Coding Bi-Directional
J2534 REPROGRAMMING : The scanner works with SAE-J2534 to provide best solution for BMW and Benz ECU programming. It helps to match the electronic control unit with new components after repair and replacement for any professional mechanics and technicians.
ULTIMATE SCANNER : Being MS908P upgraded, it is our latest and most sophisticated diagnostic scanner which boasts the best hardware including Hexa-CPU, 2GB RAM etc. for fast boot-up and multitasking. The ergonomic design resist damage of heavy use.
ALL-AROUND DIAGNOSES : This diagnostic device can access to vehicles all systems and subsystems. It helps professionals who like to perform advanced functions as ECU coding, bi-directional control, active test etc., for getting complex diagnosis efficiently.
EXCELLENT EXPERIENCE : Easy and intuitive navigation helps you to find what you need simple and fast. Displays live data in text, graph, analog and digital gauge for intuitive analysis. Data Manager saving diagnostic records for future reviews and much more.
EXTENDABLE FEATURE : This automotive diagnostic tool can expand the diagnostic capabilities by working with MP408, MV108 to go deeper into the unseen details for locating the fault efficiently or by working with TS601 for diagnosing comprehensive TPMS problems.
Sale
Bestseller No. 10
Last update on 2019-05-24 / Affiliate links / Images from Amazon Product Advertising API
Last update on 2019-05-24 / Affiliate links / Images from Amazon Product Advertising API