NUMBER: 07-88-15
DATE: 01/20/15
| | |
| --- | --- |
| APPLICABILITY: | 2015MY WRX 2.0L DIT Models |
| SUBJECT: | SOA821B200 Replacement Battery Installation Procedure |
INTRODUCTION
This Service Information bulletin provides a procedure to use when installing a SOA821B200 replacement battery in a 2015MY WRX (2.0L).  The sensor located on the battery ground terminal interferes with the battery vent cap used on the replacement battery in the "BEFORE" photo below.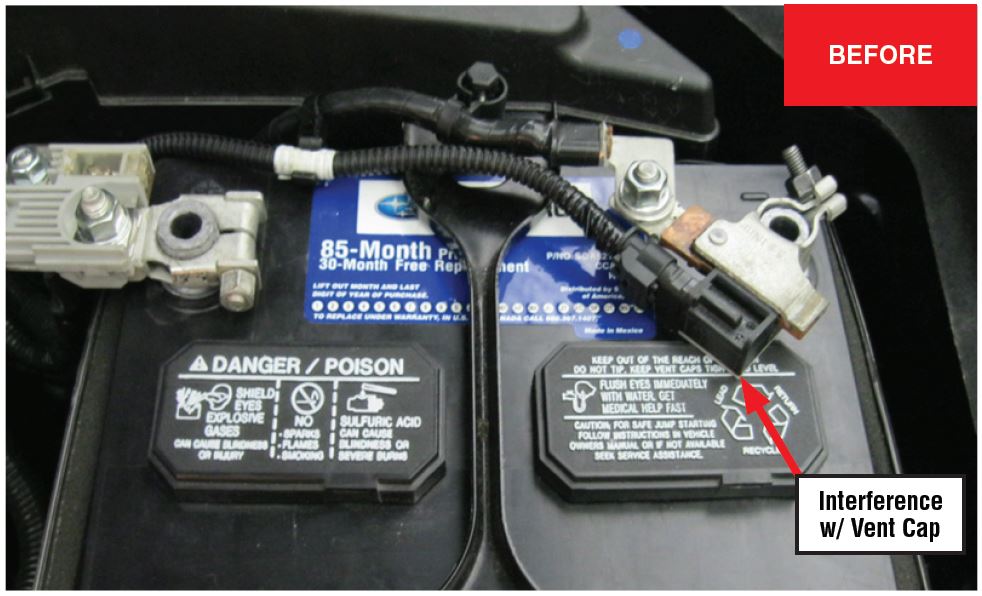 SERVICE PROCEDURE / INFORMATION:
Disconnect the current sensor harness connector from the negative terminal assembly.
Remove the 12mm hex nut securing the negative battery cable to the terminal assembly.
Loosen and lift the battery rod cover off the rod so the negative battery cable is free to move.
Loosen the 10mm battery terminal nut and rotate the terminal assembly clockwise to the position shown in the AFTER photo on page 3. Re-torque the 10mm terminal nut to 4.4 ft. lbs.

Route the current sensor harness underneath the battery hold-down bracket with adequate radius for harness relief then reconnect the harness to the current sensor. Reconnect the harness to the current sensor and make sure there is clearance between the sensor harness and the hold-down rod threads.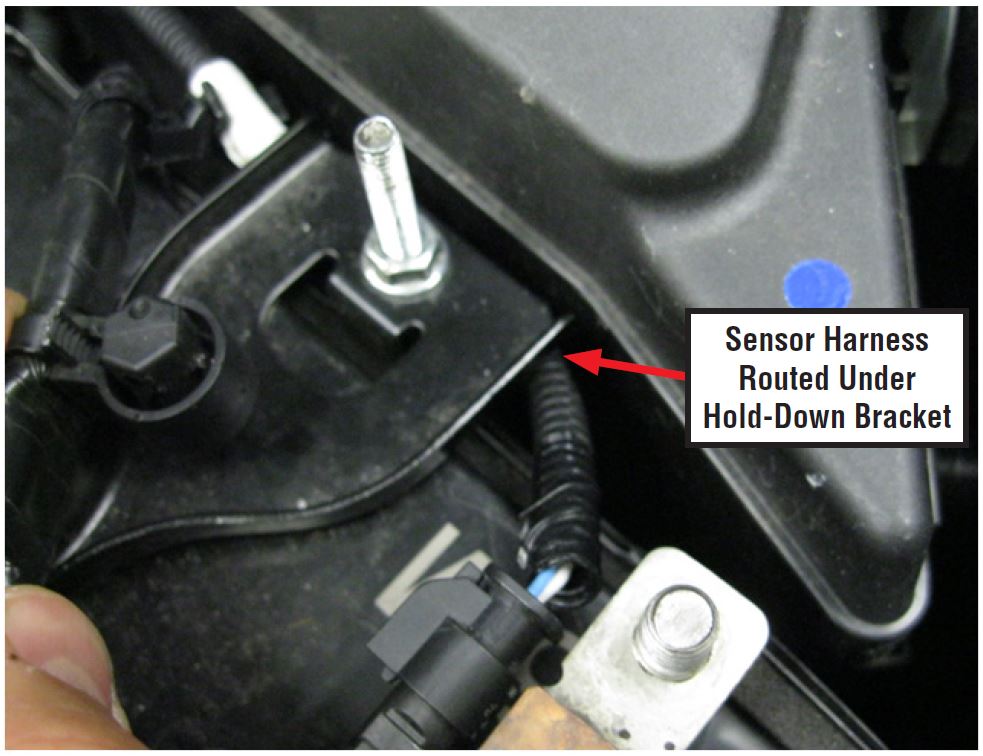 Reinstall the battery rod cover back onto the hold down rod.
Reinstall the negative battery cable onto the terminal assembly and re-torque the 12mm hex nut to 5.5 ft. lbs.
NOTE:  If necessary, loosen the front battery hold-down rod nut and re-position the battery slightly to gain clearance between the corner of the negative battery cable end and fuse box cover.  If the hold-down rod nut was loosened, re-torque to 2.6 ft. lbs.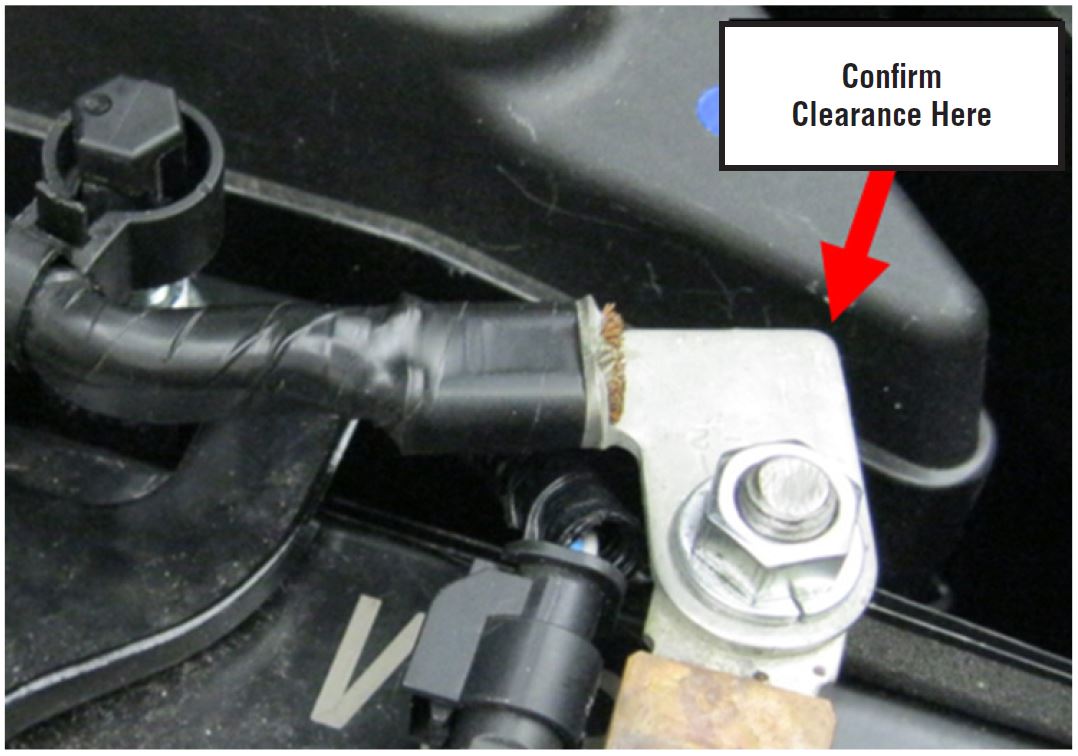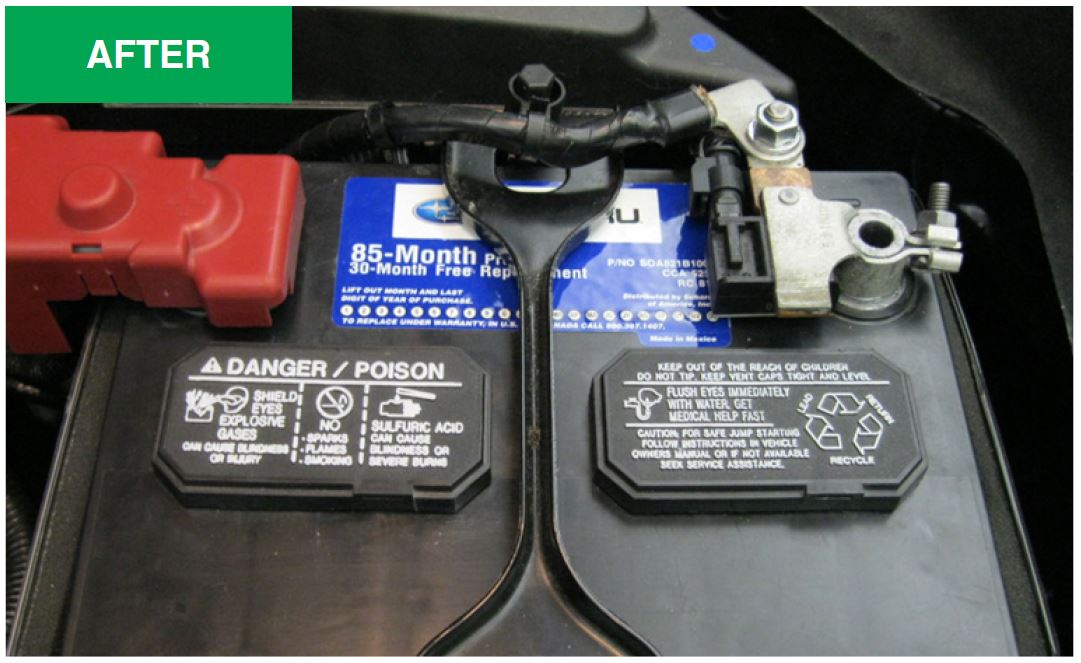 REMINDER:  SOA strongly discourages the printing and/or local storage of service information as previously released information and electronic publications may be updated at any time.
Always refer to STIS for the latest service information before performing any repairs.
https://static.nhtsa.gov/odi/tsbs/2015/SB-10080720-0699.pdf