NUMBER: 06-49-15R
DATE: 05/29/15
REVISED: 02/08/16
INTRODUCTION
In response to isolated reports of cracked or broken ABS wheel speed sensor harness retaining clips caused by reaction with acids used in some wheel cleaners, the clip material has been changed to polypropylene (PPO).
PART INFORMATION
The new retaining clips can be identified by the molded in >PP< as shown in the photo below.  There are 2 clips on each sensor harness.
| PART NAME: | PART NUMBER: | QTY REQUIRED: |
| --- | --- | --- |
| CLIP ABS SENSOR | SOA635142 | 4 Per Vehicle |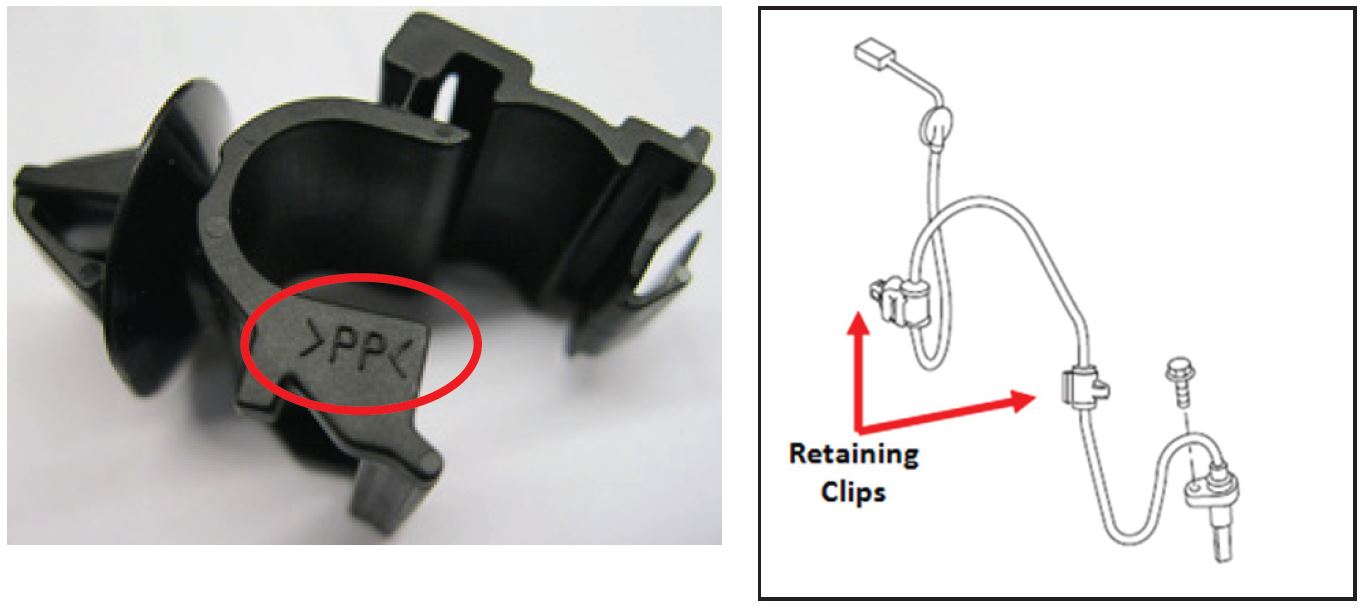 SERVICE PROCEDURE / INFORMATION
IMPORTANT:  In the event a cracked or broken sensor harness retaining clip is identified, all 4 of the clips (2 per side) MUST be replaced.
CAREFULLY remove the retaining clips from the sensor harness and always install the replacement clips back in the same position as the originals.
WARRANTY / CLAIM INFORMATION
For vehicles within the Basic New Car Limited Warranty period or with an active Added Security Classic or Gold Service Agreement, this repair may be claimed using the following information:
LABOR DESCRIPTION
LABOR
OPERATION #
FAIL
CODE
LABOR
TIME
LEGACY / OUTBACK FRONT ABS WHEEL SPEED SENSOR HARNESS CLIPS – REPLACE ALL (4)
A566-014
UQX-01
0.5
IMPORTANT REMINDERS:
SOA strongly discourages the printing and/or local storage of service information as previously released information and electronic publications may be updated at any time.
Always check for any open recalls or campaigns anytime a vehicle is in for servicing.
Always refer to STIS for the latest service information before performing any repairs.
---
https://static.nhtsa.gov/odi/tsbs/2015/SB-10059220-8434.pdf
06-49-15R