NHTSA ID Number: 10208690
Manufacturer Communication Number: 12-234-22
Summary
This bulletin announces additional information for the 2022MY BRZ Body Repair Manual.
---
1 Affected Product
Vehicle
---
NUMBER: 12-234-22
DATE:  02/28/22
INTRODUCTION:
This Service Information Bulletin announces additional information for the 2022MY BRZ Body Repair Manual. This information supplies added detail for roof panel replacement. It is IMPORTANT to fully review this bulletin prior to performing any roof panel replacement on 22MY BRZ.
BODY REPAIR MANUAL REVISION INFORMATION:
A revision of the 2022MY BRZ Body Repair Manual concerning this information is currently being developed and the release date is TBD.
SERVICE PROCEDURE / INFORMATION:
REMINDER: Customer satisfaction and retention starts with performing quality repairs.
The additional information outlined in this bulletin is to be used in conjunction with procedures currently provided in the Body Repair Manual.  The information listed below is the current roof panel replacement section beginning on page #196 with the revisions outlined in RED.
B: INSTALLATION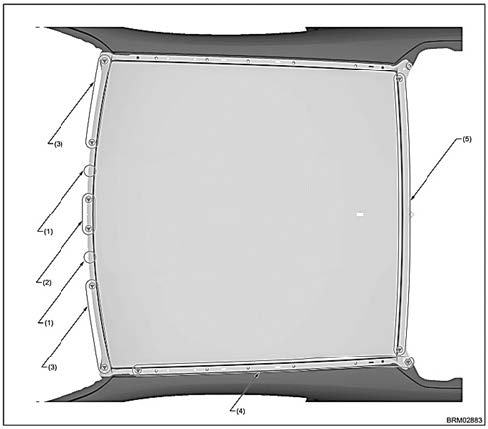 (1) 1 point (Clamp)
(3) 4 points (Countersunk rivet)
(5) 10 points (Countersunk rivet)
(2) 2 points (Countersunk rivet)
(4) 8 points (Blind rivet)
NOTES: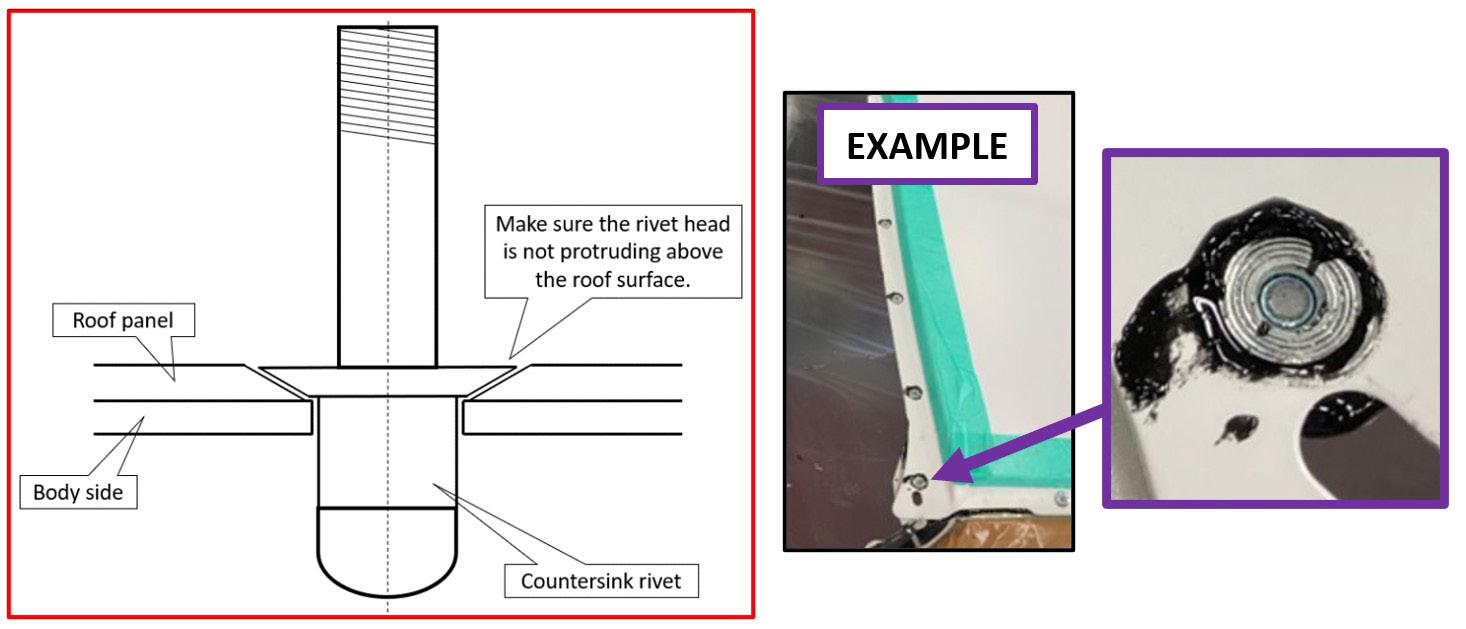 Install the roof panel so the gap between the plate rail and roof panel in the structural adhesive application location is 2 mm [0.08 in] or less.
The clamps shown in (1) should be removed after the structural adhesive is completely cured.
---
---
1 Associated Document
Manufacturer Communications
NUMBER: 12-234-22
DATE: 02/28/22
https://www.nhtsa.gov/recalls?nhtsaId=10208690
---
Sale
Bestseller No. 1
ISPINNER 385pcs 8 Sizes Aluminum Blind Rivets, Pop Rivets Assortment Kit (Silver)
MATERIAL - Aluminum Grip and Steel Mandrel
SIZE - 60pcs 1/8" x 1/4", 50pcs 1/8" x 3/8", 50pcs 1/8" x 5/16", 50pcs 1/8" x 1/2", 50 pcs 3/16" x 5/16", 45pcs 3/16" x 3/8", 45pcs 3/16" x 1/2", 35pcs 3/16" x 5/8"
PACKING - 385pcs 8 Sizes packed in a sturdy transparent plastic case, easy to store. Besides, the box can be used for a storage box.
WIDE APPLICATION - Our rivets are very strong and are great for both indoor and outdoor use.
TIPS - Please check PICTURE 4 for SIZE SPECIFICATION.
Bestseller No. 2
Bestseller No. 3
ACDelco ARV20104B-M P20 Series 20V Cordless Li-ion Heavy Duty Brushless Rivet Gun Tool Kit with Blind Rivet Sets (3.2/4.0/4.8/6.4 mm) and Carrying Case
HEAVY DUTY – Our lightweight, heavy duty, compact, and powerful brushless rivet gun is engineered with high-quality materials for fast and easy fastening work. Equipped with an alloy steel head and built-in LED light great for work in tight and dark spaces. Make it a must have tool for construction, auto, aircraft, metal, telecom, mechanic, roofer, and other industrial workers / installers.
ULTRA EFFICIENCY – Our Advanced Brushless (BLDC) motor is encased in a durable shockproof stainless-steel gearbox housing, which is highly efficient, with longer running time and life cycle and requires less maintenance. It has no carbon brush, sparking, heat-generating, and commutator worn out problems. Thus, it can last 50% longer than a standard motor.
QUICK & EASY – Our advanced BLDC motor delivers up to 3,000 RPM and 3,375 lbf. of pulling force with auto reverse mode that improves your productivity with short processing time, which makes it ideal for a wide range of fastening applications. Slim body design equipped with an ergonomic soft grip design that provides comfort for long working hours and a secure grip for maximum control and steadiness. Slim and compact design molded to securely fit with built-in convenient safety lock switch.
VALUE KIT – Our P20 Rivet Gun Tool Kit comes with a cordless rivet gun, a set of blind rivet sets (3.2 / 4.0 / 4.8 / 6.4 mm), a powerful interchangeable 20V Li-ion battery, a fast charger, and a hard-shell blow mold case that protects your tool from drops and slams.
100% SATISFACTION GUARANTEED – For over 35 years we have been manufacturing and providing the best products and services to our customers at the lowest prices possible. We are confident that you will absolutely love our rivet gun tool kit that we will stand behind our product with a replacement or your money back! Every purchase comes with a manufacturer's limited 1-year warranty, so you can buy with confidence!
Bestseller No. 4
Glarks 240Pcs 3/16" x 3/8'' / 1/2'' / 5/8'' / 3/4'' / 1'' Large Flange Blind Rivets 5 Szie Aluminum Pop Rivets Assortment Set
♛【 Package Include】: You will get 5 size 240pcs pop rivets for your use, which size are 3/16" x 3/8'' x 50pcs, 3/16" x 1/2'' x 50pcs, 3/16" x 5/8'' x 50pcs, 3/16" x 3/4'' x 40pcs, 3/16" x 1'' x 50pcs. They are well packed in a plastic box to avoid mess and loss.
♛【High Quality Material】: All our blind rivets which are made of aluminum. Acid and corrosion resistance. Surface is smooth, strong yet lightweight, easy to install, well match with the rivet gun.
♛【Product Feature】: Our large blind rivets has a mandrel which permits the formation of an up set on the blind end of the rivet and expansion of the rivet shank during the setting to join the component parts of an assembly.
♛【Great Performancce】: The flange with larger contact area, it can increase torque strength and withstand higher radial tension.
♛【Application】: These rivets are perfect for joining all kinds of metal plate and pipe. Great for joining plastic and thick fabric. Used for DIY home uses, business, automotive, aviation, ductwork, elevator, instruments, furniture etc.
Bestseller No. 5
Tradespro 836341 Aluminum Rivet Assortment, 500-Piece, Multiple Sizes
Assortment includes the following sizes: Includes 120: 1/8 in. by 1/4 in., 1/8 in. by 5/16 in., 1/8 in. by 3/8 in.; Includes: 70:3/16 in. by 5/16 in., 3/16 in. by 3/8 in
Made of aluminum, which is strong yet lightweight
Storage case keeps fasteners clean and organized
Durable and easy to use
Bestseller No. 6
Bestseller No. 7
Bestseller No. 8
Sale
Bestseller No. 9
Pop Rivet With Large Flange, Steel Mandrel/Aluminum Body, 3/16 x3/8 Inch (4,8x10 mm), Flange Diameter: 5/8(15.5 mm), Blind Rivet Grip Range 1/8-3/16 Inch (3-5 mm), Qty:100 pcs
⚙️ Rivet size: Hole size: 13/64" (4,9-5 mm), Diameter: 3/16" (4,8 mm), Lenght: 3/8" (10 mm), Flange diameter: 5/8" (15,5 mm), Grip range: 1/8" - 3/16" (3-5 mm)
⚙️ A large flange aluminum blind rivet increases the contact with the board increasing the force area.
⚙️ It does not deform surfaces after the riveting process is finished. good resistance to temperature variations. Fast simple and great quality assembly, requires simple and lightweight tools. The riveting process is environmentally friendly, free smoke, sparks, fumes.
⚙️ Pop rivets with breaking steel mandrel, designed for fastening in a fast and simple way of all kinds of materials with different types of manufacturing: composites, laminate materials, heat-treated, etc.
⚙️ Package: 100 pcs, 3/16"x3/8" (4,8x10 mm) pop rivets with aluminum large flange
Bestseller No. 10
Mardatt 240 Pcs 5 Sizes All Aluminum Large Flange Blind Rivets Set, Round Dome Open Head Blinds Pop Rivets Assortment Kit with Storage Case for Joining Metal Plate Pipe Automotive
【What you Get】The blind rivets assortment kit contains 50 pcs 3/16" x13/32''(4.8x10 mm) pop rivets, 50 pcs 3/16" x 1/2"( 4.8 x 12mm) pop rivets, 50 pcs 3/16" x 5/8" (4.8x16mm) pop rivets, 50 pcs 3/16" x 3/4" (4.8x20mm) pop rivets, 40 pcs 3/16" x 1" (4.8x25mm) pop rivets, totally 240 pcs. All are packed by sizes in a sturdy storage container for easy, convenient, hassle-free storage. Pls refer to the picture for more size detail.
【Quality Aluminum】 Blind rivets have high-quality aluminum body and steel mandrel, corrosion resistant, durable and easy to assembly. They are strong, smooth without burr yet lightweight, and will last for years.
【Easy To Install】 If you want to join metals that are difficult to weld then blind rivets are what you need. Simply drill a suitable hole and insert the blind rivet head into it, use rivet gun to pull the mandrel through. Then, you can lock the rivet in place and get a strong fastening.
【Provide A Strong Grip】 Sturdy, corrosion resistant and long lasting! They work well on various projects. The tubular body is smooth and neat for firm grip effect; the thick flange structure prevent stripping effectively.
【Multipurpose Fastener】They are commonly used in industrial riveting applications: construction, electronic, automotive, household repair and much more. Ideal for sheet metal works, such as hinges, fastening signs, shelves ect.
Last update on 2022-05-19 / Affiliate links / Images from Amazon Product Advertising API
Last update on 2022-05-19 / Affiliate links / Images from Amazon Product Advertising API