NUMBER: 11-149-14R
DATE: 11/06/14
REVISED: 04/06/15
APPLICABILITY:
2013-14MY Impreza 2.0L NA Models
2013-14MY XV Crosstrek, Including Hybrid Model (HEV)
SUBJECT:
Reprogramming File Availability for Oil Level Detection
INTRODUCTION
This bulletin announces the availability of reprogramming files and a revised oil level switch to optimize the ECM logic for engine oil level detection in the event of false or premature low engine oil level warning lamp illumination. Should a customer present a concern with a low engine oil warning lamp illumination and the diagnosis indicate the oil level is full or nearly full (oil level between the full and add marks/holes on the dipstick) and the customer has not added any engine oil, the ECM must be updated with this new logic and the oil level switch replaced. The new oil level switch part number supplied in this bulletin must be used. If the customer has added oil, determine how much was added. Based upon the information provided, estimate where the oil level was when the lamp illuminated in order to determine if additional action is required beyond what is described in this bulletin (e.g an oil consumption test). The ECM must still be updated with this new logic and the oil level switch replaced.
COUNTERMEASURE IN PRODUCTION
The new ECM logic was incorporated into production according to the table below:
| MODEL | STARTING VIN | PRODUCTION DATE CHANGE |
| --- | --- | --- |
| Impreza 2.0L 4-Door models | E*026663 | September 5, 2014 |
| XV Crosstrek and Impreza 2.0 5-Door models | E*337542 | September 5, 2014 |
PART INFORMATION
PACK FILE APPLICABILITY
MODEL
YEAR/
MODEL
TRANS
MISSION
PAK
FILE
NAME
NEW
ECM PART NUMBER
OLD
ECM PART NUMBERS
EMISSION SPEC.
NEW CID NUMBER
2012MY IMPREZA 2.0L NA
MT
22765AC366.pak
22765AC366
22765AAC360,
22765AAC361,
22765AAC362,
22765AAC363,
22765AAC364,
22765AAC365
FED
EP5G901C
CVT
22765AC385.pak
22765AC385
22765AC380,
22765AC381,
22765AC382,
22765AC383,
22765AC384
EP5G602D
MT
22765AC406.pak
22765AC406
22765AC400,
22765AC401,
22765AC402,
22765AC403,
22765AC404,
22765AC405
CAL
EP5G901A
CVT
22765AC425.pak
22765AC425
22765AC420,
22765AC421,
22765AC422,
22765AC423,
22765AC424
EP5G602B
2013MY IMPREZA 2.0L NA
MT
22765AE733.pak
22765AE733
22765AE730,
22765AE731,
22765AE732
FED
EP5I800H
CVT
22765AE743.pak
22765AE743
22765AE740,
22765AE741,
22765AE742
EP5I800I
MT
22765AE753.pak
22765AE753
22765AE750,
22765AE751,
22765AE752
CAL
EP5I800F
CVT
22765AE763.pak
22765AE763
22765AE760,
22765AE761,
22765AE762
EP5I800G
2013MY XV CROSSTREK 2.0L NA
MT
22765AE843.pak
22765AE843
22765AE840,
22765AE841,
22765AE842
FED
EP5I800C
CVT
22765AE853.pak
22765AE853
22765AE850, 22765AE851,
22765AE852
EP5I800D
MT
22765AE863.pak
22765AE863
22765AE860, 22765AE861,
22765AE862
CAL
EP5I800A
CVT
22765AE873.pak
22765AE873
22765AE870, 22765AE871,
22765AE872
EP5I800B
2014MY IMPREZA 2.0L NA
MT
22765AG001.pak
22765AG001
22765AG000
FED
EP5L001H
CVT
22765AG011.pak
22765AG011
22765AG010
EP5L001I
MT
22765AG021.pak
22765AG021
22765AG020
CAL
EP5L001F
CVT
22765AG031.pak
22765AG031
22765AG030
EP5L001G
2014MY XV CROSSTREK 2.0L NA
MT
22765AG081.pak
22765AG081
22765AG080
FED
EP5L001C
CVT
22765AG091.pak
22765AG091
22765AG090
EP5L001D
MT
22765AG101.pak
22765AG101
22765AG100
CAL
EP5L001A
CVT
22765AG111.pak
22765AG111
22765AG110
EP5L001B
2014MY XV CROSSTREK 2.0L HYBRID
CVT
22765AE632.pak
22765AE632
22765AE631
EM2F401E
SERVICE PROCEDURE / INFORMATION
Step 1– Reprogram the ECM using the applicable pack file from the table above.
NOTES:
SOA now highly recommends connecting the Midtronics GR8 Diagnostic Battery Charger to the vehicle and utilizing the Power Supply Mode feature anytime a vehicle control module is being reprogrammed. Once the GR8 is connected to the vehicle, as long as the battery is fully charged, it takes less than 3 minutes to boot-up the charger, select the Power Supply Mode, and have the battery voltage stabilized and ready for reprogramming.
VERY IMPORTANT: This information is applicable to the Midtronics GR8 Diagnostic Battery Charger ONLY. It does not apply to any other brand / type of "generic" battery charger
whatsoever. ONLY the GR8 and its Power Supply Mode feature has been tested and approved by Subaru of America, Inc. (SOA).
If the GR8 indicates the vehicle's battery must be charged, charge the battery using the GR8 before proceeding to reprogram the vehicle while using the Power Supply Mode.
Control module failures as a result of battery discharge during reprogramming are not a matter for warranty. Should any DTCs reset after the reprogramming update is performed, diagnose per the procedure outlined in the applicable Service Manual.
Step 2 – Always confirm any low oil level lamp false illumination is not a result of a poor electrical connection or grounding concern. Inspect the circuit following the diagnosis found in the applicable Service Manual to insure no other related concern exists.
Step 3 – Once the ECM reprogramming has been completed and the oil level switch wiring has been confirmed to be OK, proceed with replacing the oil level switch assembly shown in the illustration below following the procedure outlined in the applicable Service Manual. Torque the 2 retaining bolts to 6.4 Nm (56 inch-pounds).Torque the 2 retaining bolts to 6.4 Nm (56 inch-pounds).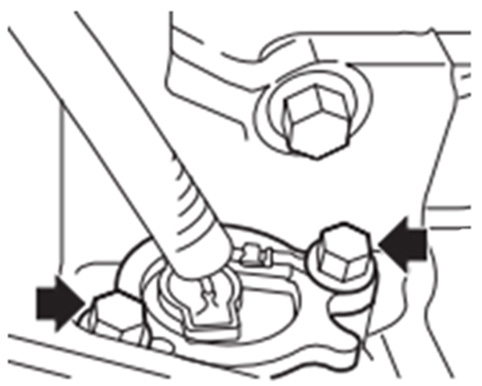 Step 4 – Confirm the engine oil level has been restored to the FULL mark on the dipstick before releasing the vehicle.
WARRANTY / CLAIM INFORMATION
For vehicles within the Basic New Car Limited and / or Emissions Warranty period, this repair may be submitted using the following claim information:
LABOR DESCRIPTION
LABOR
OPERATION #
FAIL
CODE
LABOR
TIME
ECM Reprogramming & Diagnosis for False Warning Lamp Illumination
B455-278*
UST-48
0.9
Oil level Switch Replacement
C455-270
1.8
*Up to 6 quarts of motor oil (SOA635045) may be claimed with this labor operation when required.
NOTE: The pack file listings provided in this bulletin are the latest available at the time of publishing.  Updates are often released thereafter without revision to the bulletin.  For this reason, it is critical to always have the latest version of Select Monitor III software installed on your system. You can confirm if a later version is available by entering the CID listed in this bulletin into FlashWrite. If a newer CID is shown as available in FlashWrite, reprogram using that file.
REMINDER: SOA strongly discourages the printing and/or local storage of service information as previously released information and electronic publications may be updated at any time.
Always refer to STIS for the latest service information before performing any repairs.
https://static.nhtsa.gov/odi/tsbs/2014/SB-10068699-0699.pdf
---
J2534 Reprogramming
Subaru reprogramming files using a generic (non-OEM) SAEJ2534 pass-thru vehicle programming device
are available by contacting Service Technical Information Company toll free at 1-866-428-2278. The cost for the CD-ROM with all reprogramming files is $75.00 plus S/H and applicable state tax. Files will be updated four (4) times per year, in CD-ROM format, with all available reprogramming service information at the same above offered cost. Authorized Subaru Dealers are provided the same reprogramming information.
Before purchasing, the reprogramming details can be found in the following Reprogramming J-2534 Files chart. Click the link to view the PDF chart.
Subaru J2534 Reprogramming software meets the latest available J2534-1 specification. Our Reprogramming J2534 Files chart does not specify the Calibration Identification Number (CID); however, this information is included in our offered CD-Rom.
Note: The ECM or TCM being reprogrammed may already contain some or all of the reprogramming files listed in the Reprogramming J2534 Files chart shown by release date. It is possible to damage the vehicles ECM/TCM during the reprogramming event. Once the reprogramming process has started, it is recommended not to interrupt the process until the event is completed. If you experience any problems, please contact your scan tool maker for further instructions.
Are all pre-2004MY Subaru vehicles compatible with J2534?
No. Subaru has no reprogramming capability for model years 1996-1998. Starting with our 1999 model year, please see our Reprogramming Pre-J2534 Files chart for affected model reprogramming information.
Both pre-J2534 reprogramming and J2534 pass thru reprogramming files are included in the offered HDS kit software for aftermarket service provider application.