NUMBER:  15-191-15
DATE: 12/14/15
| | |
| --- | --- |
| APPLICABILITY: | 2015-16MY XV Crosstrek Models with Accessory Rear Splash Guard Kit |
| SUBJECT: | Corrosion of Attachment Hardware |
INTRODUCTION
This bulletin announces availability of a replacement attachment hardware kit for the rear splash guards to address customer concerns of poor appearance due to corrosion and / or rusting.
Examples of the condition are shown in the photos below.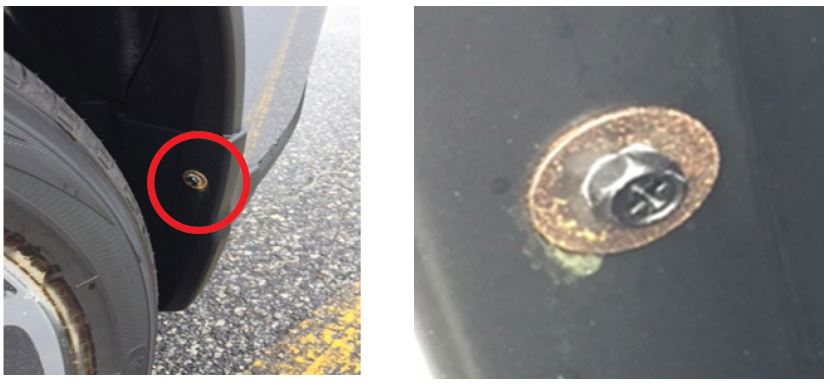 PART INFORMATION:
The part number for the replacement hardware kit (2 screws and 2 washers) is: SOA008W001.  The new screw and washer will have a glossy black finish as opposed to the original parts which have a more flat or "matte" appearing finish.  In the rare case where a replacement "J-Nut" is required, hardware kit, P.N. J101CFJ258 must be ordered.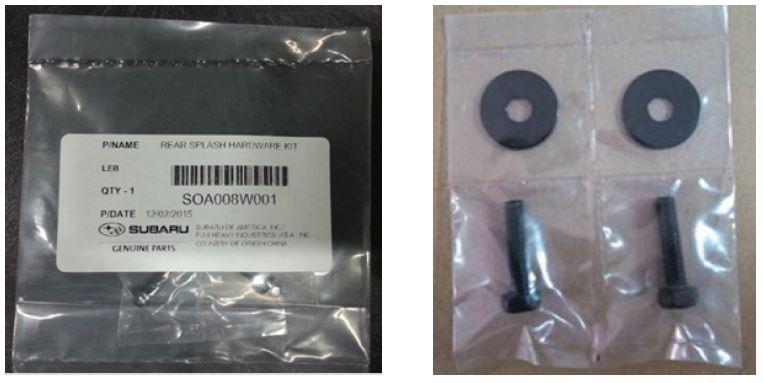 SERVICE PROCEDURE / INFORMATION
Remove the affected screw and washer "set" (one per splash guard).
Remove any residual rust staining from the splash guard with a mild solvent or all-purpose cleaner on a clean shop cloth.
Install the new kit parts. Assure the splash guard remains in place and tight to the vehicle by holding it upward with a slight inward pressure to avoid any gapping.  The splash guard installation photos below show a proper fit and for comparison, an improper fit with excessive gapping.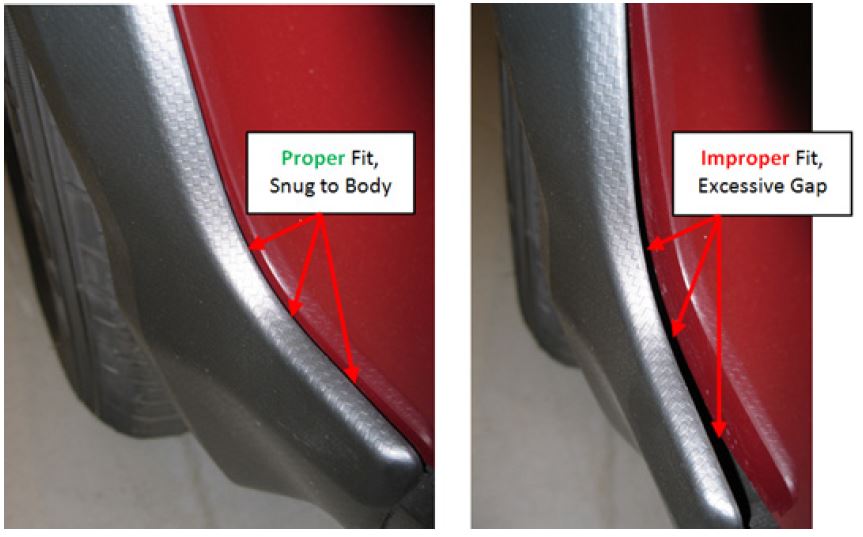 Torque the retaining screw to 16-19.5 inch-pounds.
WARRANTY / CLAIM INFORMATION
For vehicles within the Basic New Car Limited Warranty period, this repair may be submitted using the following claim information:
LABOR DESCRIPTION
LABOR OPERATION #
FAIL
CODE
LABOR
TIME
XV CROSSTREK REAR SPLASH GUARD HARDWARE REPLACEMENT
A064-606
ZQX-50
0.3
IMPORTANT REMINDERS:
SOA strongly discourages the printing and/or local storage of service information as previously released information and electronic publications may be updated at any time.
Always check for any open recalls or campaigns anytime a vehicle is in for servicing.
Always refer to STIS for the latest service information before performing any repairs.
---
https://static.nhtsa.gov/odi/tsbs/2015/SB-10094281-2280.pdf
---
Bestseller No. 1
Shine Armor Fortify Quick Coat Wax – Top Coat Ceramic Gloss Polish and Sealer – Professional Detailing Spray Sealant – Waterless Car Wash Kit
ADVANCED 3-IN-1 FORMULA! Frustrated with all the products (and MONEY) it takes to get a smooth, clean and shiny finish on your ride? Look no further! SHINE ARMOR FORTIFY QUICK COAT is your one-stop-shop to achieving your desired results. Shine Armor Fortify Quick Coat provides a waterless wash, coat and shine, all in ONE CONVENIENT BOTTLE.
NO STREAKING, SMEARING OR SCRATCHING - Shine Armor Fortify Quick Coat's premium formula is both gentle and effective on any vehicle! It provides a clean and shiny finish, without hurting your car's paint or leaving unsightly drying smears and streaks. Simply, apply SHINE ARMOR FORTIFY QUICK COAT once and experience all the formula has to offer!
CUTS DIRT, GRIME & GREASE - Only SHINE ARMOR FORTIFY QUICK COAT eliminates dirt, grime & grease instantly on contact! Save time and money with our signature 3-in-1 formula. In just one 8-ounce bottle, you'll get a waterless wash, coat and shine for a clean, showcase look.
SAFE FOR ALL SURFACES - Use Shine Armor Fortify Quick Coat on AUTOMOBILES, BOATS, MOTORCYCLES, RVs, FOUR-WHEELERS AND MORE! It is the perfect blend of surfactants and SiO2 ceramic-coating science. FORTIFY QUICK COAT will allow you to achieve the showcase look you love without damaging the surface of your favorite ride!
GET SHINE ARMOR FORTIFY QUICK COAT RISK FREE: 100% MONEY-BACK GUARANTEE - We are confident you will love our FORTIFY QUICK COAT, we offer a 30-day money-back guarantee! CLICK "Add to Cart" NOW, ZERO RISK!
Bestseller No. 2
Meguiar's G7101FFP Gold Class Car Wash - 1 gallon
ONLY ONE STEP: Designed to both clean and condition your car in one easy step
ADVANCED FORMULA: Cleans without stripping wax protection
THE BEST CLEAN: Foams away tough dirt, road grime and contaminants
RADIANT LOOK: Contains ultra-rich conditioners to make your paint look its best
FOAM CANNON READY: Diverse application allows it to be used in a bucket or in a foam cannon. *Dilute 5:1 when used with a foam cannon.
Sale
Bestseller No. 3
Meguiar's G18216 Ultimate Liquid Wax, 16 Fluid Ounces, 1 Pack
ONE EASY STEP: Formula delivers maximum synthetic protection, durability, depth of color, and reflectivity in this easy one step
EFFORTLESS APPLICATION: Thin Film technology provides for easy application and wipe off even in full sun, and will not stain non-painted trim pieces white
LONG-LASTING PROTECTION: Advanced synthetic polymers crosslink to form a long-lasting protective barrier while amplifying reflection for incredible depth and mirror-like shine
WATER ROLLS RIGHT OFF PAINT: Hydrophobic Polymer technology increases surface tension to protect paint
SAFE AND FLEXIBLE: Safe and effective on all glossy paints and clear coats, and can be applied by hand or dual action variable speed polisher like Meguiar's MT300 Dual Action Polisher
Bestseller No. 4
Mothers 05101 Mag & Aluminum Polish - 10 oz
Apply with a clean cloth and a little elbow grease for a shine
Gentle enough to use on a regular basis
Regular use provides a long lasting benefit to your vehicle
Easy to apply
Sale
Bestseller No. 5
Meguiar's M6332 Flagship Premium Marine Wax 32. Fluid_Ounces
EASY TO USE: Our formula offers long-lasting polymer protection and incredible deep gloss to fiberglass and gel coat surfaces
BEST PROTECTION FOR YOUR BOAT: Protects against UV damage and wear
VARIETY OF USES: Removes light oxidation, fine scratches and swirls while protecting
GREAT RESULTS: Dramatically enriches color and shine while bringing out the full richness of the surface
USE WITH HAND PADS OR POLISHER: Formulated to be effective by hand or dual action variable speed polisher
Bestseller No. 6
Chemical Guys WAC_201_16 Butter Wet Wax (16 oz)
100 percent carnauba-based wax
New formulation for even easier application
Deep wet look to any paintwork
Improved level of protection.Date on item is manufactured date
More UVA and UVB protection
Bestseller No. 7
Brasso Metal Polish, 8 oz Bottle for Brass, Copper, Stainless, Chrome, Aluminum, Pewter & Bronze, 8 oz
Cleans & polishes a variety of metals
Provides long-lasting smooth & polished surface
Provides brilliant shine
Multi-purpose metal polish for: brass, copper, stainless steel, chrome, aluminum, pewter, and bronze
Great to use on: car rims, stainless refrigerators/ovens/toasters/dishwashers, faucets, metal kitchenware and metal furniture
Bestseller No. 8
Meguiar's M10508 Mirror Glaze Ultra-Cut Compound, 8 Fluid Ounces, 1 Pack
DEFECT REMOVAL: Great for removing scratches, defects, acid rain and severe swirls/holograms
ULTRA-FAST COMPOUNDING: Ultra-fast cutting removes 1200 grit or finer sanding marks
SUPERIOR FINISH: Exclusive super micro-abrasive technology leaves best-in-class finish
CLEAR COAT SAFE: Safe and effective on all glossy paint finishes including clear coats
VERSATILE USE: Formulated for use by hand, dual action polisher or rotary buffer, and is body shop safe. Also available in 32 oz and 1 gallon sizes
Sale
Bestseller No. 9
Meguiar's G17516 Ultimate Quik Wax, 15.2 Fluid Ounces
Ultimate spray wax with hydrophobic polymer technology creates a deep wet-look shine you would normally expect from liquid or paste waxes
With relentless water-beading protection that lasts for weeks, Ultimate Quik Wax offers Meguiar's longest-lasting protection from a spray wax
Safe and effective on all painted surfaces without leaving a white waxy residue on exterior plastic or trim pieces
Quik Wax is truly quick - simply spray on and wipe off for fast wax protection and gorgeous shine in less than 15 minutes
The polymer-based wax can be applied in direct sunlight or on hot surfaces without streaking or leaving a white residue
Bestseller No. 10
P&S Detailing Products C250P - Bead Maker Paint Protectant ( 1 Pint )
EASY TO USE - Simply Spray and Wipe On Wet (as a Drying Aid) or Dry Surfaces. Bead Maker Combo Kits Include TWO FREE Official Bead Maker Ultimate Microfiber Towels By THE RAG COMPANY (Additional $15.50 Value)
SAFE FOR ALL SURFACES: Safely Use On Paint, Rubber, Plastic, Metal, Glass and More!
CURED UV PROTECTION: Combined UV Filters and UV Stabilizers + Longer Lasting, Super Glossy Shine Every Time
HIGHLY HYDROPHOBIC: Easily & Effectively Repels Dirt and Water Across Your Entire Car, RV, ATV, Boat or Airplane!
RENNY DOYLE DOUBLE BLACK COLLECTION: Master Level Professional Detailing Products From P&S - Family Owned & Operated For Over 50 Years!
Last update on 2019-04-29 / Affiliate links / Images from Amazon Product Advertising API
Last update on 2019-04-29 / Affiliate links / Images from Amazon Product Advertising API