NUMBER: 12-171-15
DATE: 07/27/15
| | |
| --- | --- |
| APPLICABILITY: | 2013-14MY BRZ |
| SUBJECT: | Uneven Gap between Dash Pad and Center Air Vent Grille |
INTRODUCTION
This bulletin will address customer concerns of an uneven gap appearing between the top of the center dash air vent grille and the instrument panel dash pad directly above it.  The photo below shows the uneven gaps as indicated by the 5 red arrows.  (Masking tape was used to make the gaps easier to see and photograph.) Insufficient retaining force by the air vent grilles combined with high cabin temperatures may cause this condition to occur.

PRODUCTION CHANGE INFORMATION
A new dash pad /frame assembly was incorporated into production starting with VIN E*605797.
PART INFORMATION
| PART NAME: | NEW PART NUMBER |
| --- | --- |
| PAD & FRAME ASSY | 66040CA010 |
(There has been no change to the part number.)
SERVICE PROCEDURE / INFORMATION
Once the condition has been verified, determine the production date of the vehicle's original dash pad and frame assembly by locating the label in the glove box area as shown in the illustration at the top of page 2.
NOTE:  This label location is only used on parts made before the production change.

If the date on the production label is January 26, 2014 or before, replace the dash pad and frame assembly following the procedure outlined in the applicable Service Manual.  A design change to prevent this condition from occurring was incorporated into the dash pad and frame assembly on parts manufactured January 27, 2014 and after.
NOTE: Parts made after this change date (for both new vehicle production and replacement part use) have the production date label located under the driver's side (left) vent grille as shown in the illustration below (this date will also be in yy/mm/dd format).
CAREFULLY reassemble the dash in the opposite order of disassembly.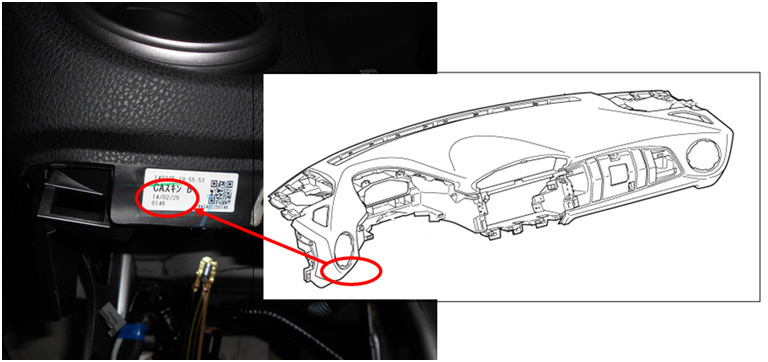 REMINDER:  Always take the proper precautions to protect the interior trim pieces from damage throughout this procedure.
WARRANTY / CLAIM INFORMATION
For vehicles within the Basic New Car Limited Warranty period, this repair may be claimed using the following information:
LABOR DESCRIPTION
LABOR
OPERATION #
FAIL
CODE
LABOR
TIME
UNEVEN GAP BETWEEN CENTER VENT AND DASH REPAIR
A911-303
YAR-03
1.7
REMINDER:  SOA strongly discourages the printing and/or local storage of service information as previously released information and electronic publications may be updated at any time.
Always refer to STIS for the latest service information before performing any repairs.