NUMBER: 12-188-15
DATE: 09/23/15
| | |
| --- | --- |
| APPLICABILITY: | 2015MY WRX and STI Models |
| SUBJECT: | Side Spoiler Removal Instructions and Precautions |
INTRODUCTION:
This Service Information bulletin provides instructions and precautions to help protect the paint finish and the adjacent body garnish edge areas when removing or reinstalling the side spoiler assembly.
SERVICE PROCEDURE / INFORMATION:

There are 2 methods for protecting the paint finish when removing the side spoiler.  Both involve the use of blue Painter's Tape applied to the front gap area of the spoiler as shown in the photos and illustrations below.  The blue Painter's Tape (available at any home improvement retailer) is recommended because the adhesive used does not leave any residue behind when removed from the surface it is applied to.

Method 1:  CAREFULLY remove the 7 clips from the underside of the spoiler using the necessary screw driver (flat or Phillips head) and a plastic trim tool.  After removing the underside clips, if the gap between the garnish and the spoiler still is too tight to get the tape into, use a helper to CAREFULLY press down on the spoiler in the area shown in the photo below opening the gap enough to apply the Painter's tape.  2 pieces of tape were used in the bottom photo insuring both angles of the spoiler edge were protected.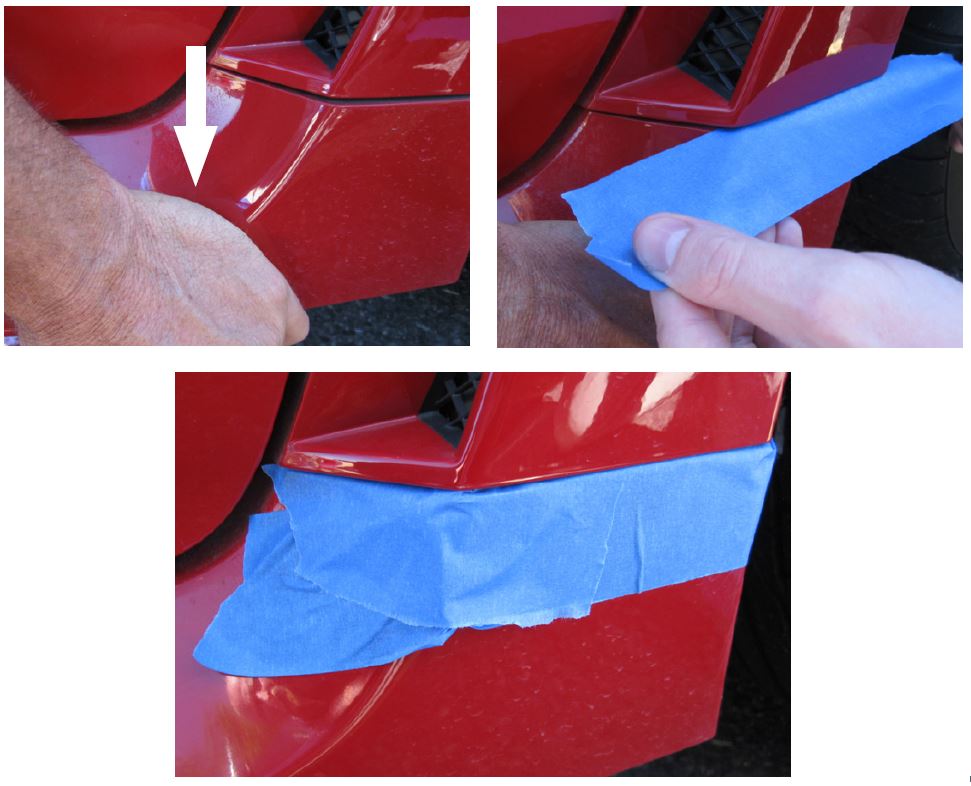 Method 2:  If the gap is still insufficient to apply the tape, (with the 7 underside clips removed) start from the rear of the spoiler and CAREFULLY release the first 6 upper clips using a plastic trim tool.  BEFORE releasing the 7th and remaining clips, there should now be sufficient gap between the front of the spoiler and the fender garnish to install the tape.  At this point, the rear of the spoiler must be supported to maintain an approximate 1 ¼" gap (H) between the rear of the spoiler and the front lower edge of the wheel arch.  Use either a cloth-covered spacer as shown in the photo and illustration below or a helper (preferred) to support the spoiler while the remaining upper clips are released.
VERY IMPORTANT:  During spoiler removal or installation, NEVER allow the rear of the spoiler to be unsupported.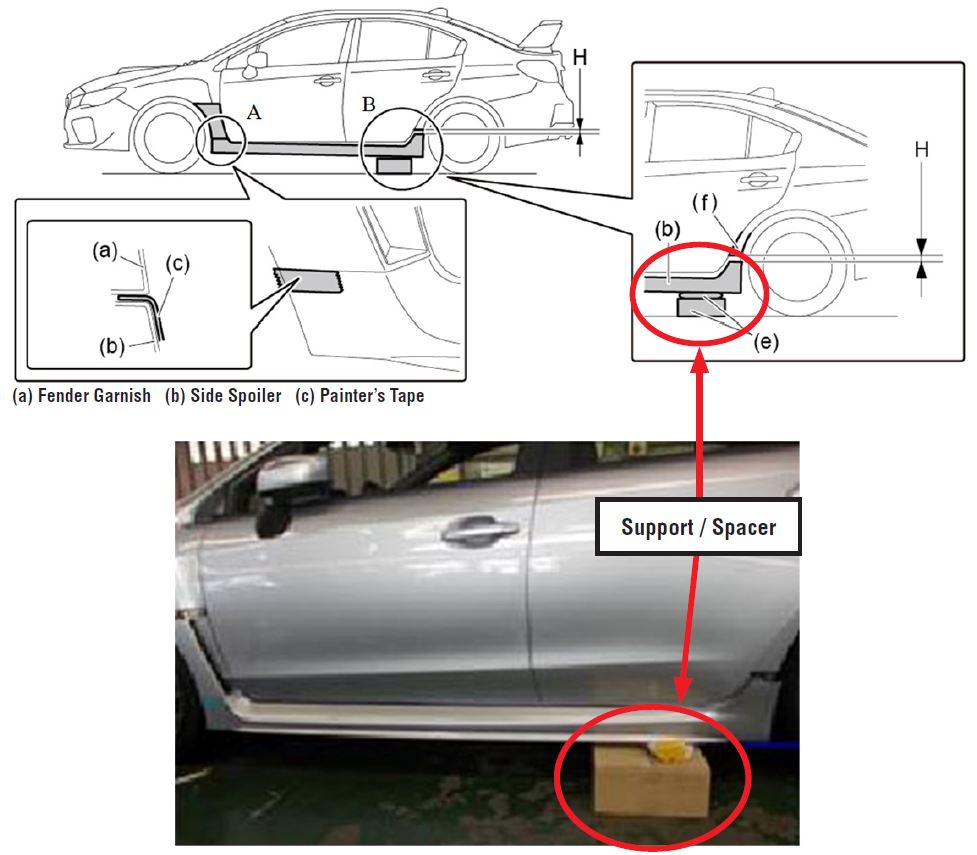 NOTE:  When reinstalling the spoiler, always make sure all of the Painter's Tape is removed before the spoiler is fully secured into position.
REMINDER:  SOA strongly discourages the printing and/or local storage of service information as previously released information and electronic publications may be updated at any time.
Always refer to STIS for the latest service information before performing any repairs.