NUMBER: 15-226-18R
DATE: 08/21/18
REVISED: 09/05/18
INTRODUCTION:
This bulletin provides troubleshooting steps to follow when diagnosing customer concerns regarding USB functionality.  Please start by completing the Harman Investigation Guide Questionnaire as it gathers important details which will help with diagnosis and will be required should the condition not be resolved by this troubleshooting.  While completing the questionnaire, follow the question flow based on the customer concern.   Answer each related question noting the results to each in detail while performing the diagnostics.  Review the entire bulletin before beginning in order to understand the flow for the listed concern.  If the concern you have is not listed, check the Service Manual "Infotainment (Diagnostics) – Diagnostics with Phenomena" section as a starting point.
SERVICE PROCEDURE / INFORMATION:
REMINDER:  Customer satisfaction and retention starts with performing quality repairs.
1) Always confirm the condition as reported by the customer.
2) This section addresses USB detection symptoms.
a. Confirm the USB is recognized (USB icon appears) on the Media screen as shown in the figure below.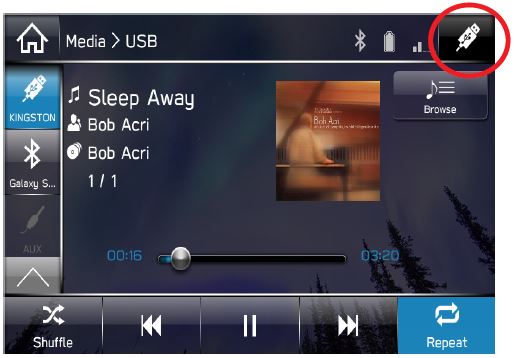 b. If the USB is not recognized, follow Service Diagnostic Mode from the Service Manual:
i. Turn the ignition switch to ACC.
ii. Press the "TUNE/SCROLL" button six times while pressing the "HOME" button.
1. SERVICE INSPECTION:
a. CONNECTION
i. On Service Menu, press "Connection" to display the list of items.
ii. OK: Each device is connected properly.
iii. NG: Connection is not established, or connection status (possibly including the related harness) is faulty.
NOTES:
The USB connection showing "NG" when no USB device is connected to USB ports is normal.
If the concern involves "CarPlay not working", make sure a genuine Apple cable is used. In some cases, aftermarket cables may cause connection issues.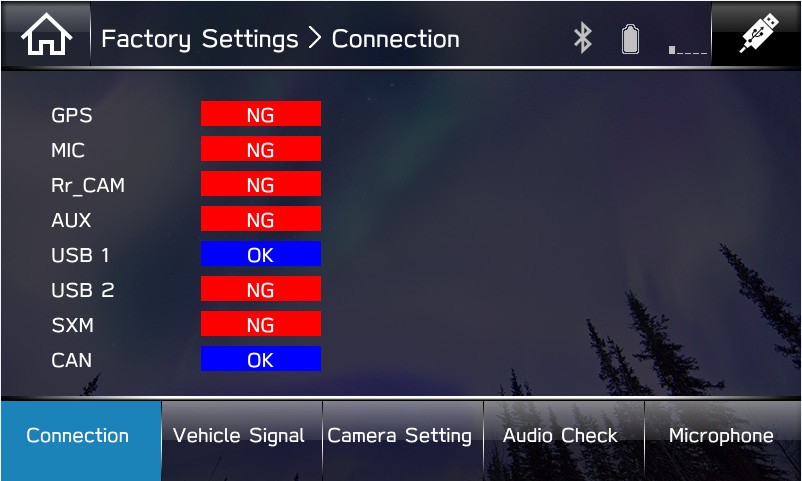 c. Do other USB devices work in the suspect vehicle? If yes, check the USB device's operation in another like vehicle.
d. Please provide detailed information regarding the USB device (brand, device type, file system, types of files on device, etc.).
3) This section addresses issues related to Apple CarPlay and/or Android Auto not launching consistently due to poor connectivity to USB Media. Affected models and head units are:
New firmware was released during late 2017 to enhance connectivity for Auxiliary Terminal part numbers: 86257FL00A and 86257FL101 (MID, HIGH).
NOTE: The BASE model utilizes a different Auxilliary Terminal part number which is not affected.
How to determine if the Auxiliary Terminal is pre- or post-countermeasure (CM):
CAREFULLY peel off the QR code / part number label.
Check the Lot# as shown below. If the number is after "7411" it is post-CM.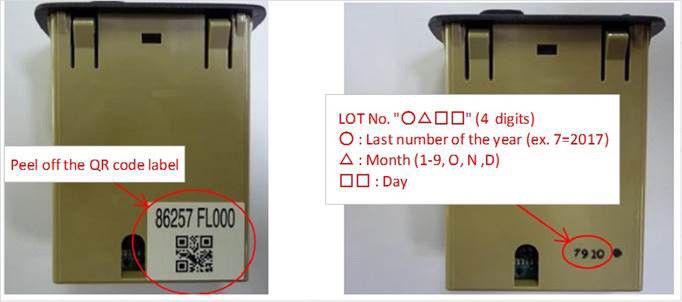 4) If the above steps do not resolve the customer's concern with USB functionality, complete a fresh Harman Investigation Guide Questionnaire documenting the customer's concern and the results of each diagnostic step in this bulletin. If possible, capture a video of the condition then contact the SOA Techline to review the next steps.  Techline will request you send the completed questionnaire, step-by-step bulletin test results and any videos of the condition.
WARRANTY / CLAIM INFORMATION:
For vehicles within the Basic New Car Limited Warranty period or covered by an active Subaru Added Security Gold plan, this repair may be submitted using the following claim information:
Labor Description
Labor Operation #
Labor
Time
 Fail
Code
H/U
Type
HARMAN USB TROUBLESHOOTING
A850-873
0.5
ZLI-43
Base, Mid & High
IMPORTANT REMINDERS:
SOA strongly discourages the printing and/or local storage of service information as previously released information and electronic publications may be updated at any time.
Always check for any open recalls or campaigns anytime a vehicle is in for servicing.
Always refer to STIS for the latest service information before performing any repairs.
---
NUMBER: 15-226-18R
REVISED: 09/05/18
https://www.nhtsa.gov/recalls?nhtsaId=10146468
https://static.nhtsa.gov/odi/tsbs/2018/MC-10146468-9999.pdf
---
NUMBER: 15-226-18
DATE: 08/21/08
https://www.nhtsa.gov/recalls?nhtsaId=10144884
https://static.nhtsa.gov/odi/tsbs/2018/MC-10144884-9999.pdf
---
Sale
Bestseller No. 1
10pcs 16GB USB Flash Drives 10 Pack Flash Drive Flash Memory Stick Swivel USB 2.0 in Black
INCREDIBLE STORAGE - 10 * 16GB USB Flash Drive, total 160GB capacity, great cost performance and high quality, multiple color, and capacity choice - Black; Black/Silver; Blue; Green; Orange; Red with 1GB; 2GB; 4GB; 8GB; 16GB and 32GB- You can store, transfer and share music, photos, movies, designs, manuals, programs, handouts in a quick speed
PLUG AND WORK SAFE WITH HIGH COMPATIBILITY AND PERFORMANCE - You do not need install any software. The most important is all the usb flash drives are formatted via the specific machine, NO dangerous viruses or malware or any file in them - they are safe for your device. And it can work when you plug it on your PC. Support windows7 / 8 / 10 / Vista / XP / 2000 / ME / NT Linux and Mac OS, Compatible with USB2.0 Backwards compatible to USB 1.1
SLEEK, CHIC, CONVINIENT AND ALSO USEFUL - The lightweight and portable usb sticks have a nice and sleek design with a metal swivel cover on each memory stick. The aluminum swivel is very smooth - making the flash drives look stylish and chic! They have a tiny LED inside which is solid red when connected and flashes when it's being written to. The end of the thumb drives has a loop for a lanyard or key ring to keep it safe or on your keys
GOOD AND PROFESSIONAL PACKAGE - They are packaged very securely in a heavy cardboard box with a foam insert and cutouts that has a spot carved out for each drive. Each memory stick drives with a little polythene cover on to make sure they stay in good condition and the end is protected by the metal part that swings over it. The packaging was so clean and neat, let you are confident giving these to your clients or friends
100% RISK - FREE SATISFACTION GUARANTEE - 30-day money back guarantee 12-month warranty, let you confident with our charger cords. Free lifetime technical support, carefree service! If you have any problem,Please email us via [email protected], we will provide satisfied solution to you!
Sale
Bestseller No. 2
Sale
Bestseller No. 3
Sale
Bestseller No. 4
Bestseller No. 5
Micro Center SuperSpeed 2 Pack 64GB USB 3.0 Flash Drive Gum Size Memory Stick Thumb Drive Data Storage Jump Drive (64G 2-Pack)
HIGH DATA TRANSFER SPEED USB 3.0 flash drive with read/write transfer speeds up to 70MB/s and 5MB/s respectively. Backward-compatible with USB 2.0 and transfer faster. Rear LED indicator lights while reading/writing
SLIM FIGURE YET LARGE STORAGE Gum size usb flash drive with 64GB capacity, meet your needs of daily use on work, school, home and travelling for photos, music, videos, files storage and transfer
PLUG AND PLAY Just plug the thumb drive then start data storage, backup and transfer between devices and locations. It supports Windows OS and compatible with PC, Laptop, TV, Car, Audio and etc
SLEEK AND PRACTICAL DESIGN The memory stick's hard plastic cover prevents rough treatment. Multiple colors for easy clarify. Cap protects USB plug and the rear easily attached loop prevents lost
RELIABLE DATA STORAGE OPTION The Micro Center USB Flash Drive is constructed from quality components and strictly tested to offer well performance. Backed by 2 years warranty, giving you worry free use, a pen drive you can count on
Bestseller No. 6
Bestseller No. 7
mosDART 5 X 32GB USB 2.0 Flash Drive Swivel Bulk Thumb Drives Jump Drive Zip Drive Memory Sticks with Led Indicator,Black/Blue/Red/White/Green(32GB,5pack Mix Color)
SUPER SAVER PACK - Includes 5 units of 32GB USB 2.0 Flash Drive packed in a compact and eco-friendly box
COMPATIBILTY AND INTERFACE - Supports almost all operating systems including Windows Windows 2000/7/8/8.1/10/Vista/XP/2000/ME, Linux and MacOs 10.3 and above. No need to install any additional drivers to use to the flash drive. Compatible with USB 2.0 and backwards.
360 TWIST AND TURN DESIGN - The Metal Clip rotates 360 around the ABS plastic body having a rubber oil finish. The Metal Clip is integrated with a key chain loop which helps you to protect your drive from getting lost.
USAGE - Fast data transmission allows you to store all your important documents, images, videos, software, instruction manuals etc. in the thumb drive which will be available on the go and can be accessed from any device with USB slot.
WHAT YOU GET - 5 units of Pen drive with 30 days return policy and 1 year warranty on manufacturing defects.
Sale
Bestseller No. 8
Samsung BAR Plus 128GB - 300MB/s USB 3.1 Flash Drive Champagne Silver (MUF-128BE3/AM)
Redefine everyday file transfers with speeds up to 300MB/s
Reliable and secure storage for your photos, videos, music, and files
Rugged metal casing for durability with key ring to prevent loss
Safeguard your data (Water proof, shock proof, magnet proof, temperature proof, x-ray proof)
USB 3.1 flash drive with backwards compatibility (USB 3.0, USB 2.0)
Bestseller No. 9
Sale
Bestseller No. 10
USB Flash Drive 256gb, Tankeo PC Memory Stick Thumb Waterproof Backup Drive with Keychain-Silver
Advanced UDP Chip: More Stable for data transfer and storage, More Secure in usage
Safety Design: Tankeo Memory Stick is completely water resistant(IPX7 class), anti-static,anti-magnetiism and work under high temperature circumstance-- no worry about any accident
Easy to Use: Plug and Use, compatible with USB 2.0 and 1.1 ports, support Windows 10/8/7/Vista/XP/2000/ME/NT/98, Mac OS and Linux
Durable and Portable: Meatl shell makes it more strong , keychain design makes it easier to carry without worrying lose it
Last update on 2019-06-03 / Affiliate links / Images from Amazon Product Advertising API
Last update on 2019-06-03 / Affiliate links / Images from Amazon Product Advertising API