NUMBER: 15-227-18R
DATE: 08/21/18
REVISED: 09/05/18
INTRODUCTION:
This bulletin provides troubleshooting steps to follow when diagnosing customer concerns of the Navigation system's functionality.  Please start by completing the Harman Investigation Guide Questionnaire as it gathers important details which will help with diagnosis and will be required should the condition not be resolved by this troubleshooting.  While completing the questionnaire, follow the question flow based on the customer concern.   Answer each related question noting the results to each in detail while performing the diagnostics.  Review the entire bulletin before beginning in order to understand the flow for the listed concern.  If the customer's concern is not listed, check the Service Manual "Infotainment (Diagnostics) – Diagnostics with Phenomena" section as a starting point.
SERVICE PROCEDURE / INFORMATION:
REMINDER:  Customer satisfaction and retention starts with performing quality repairs.
1) Always confirm the condition as reported by the customer.
a. For issues with GPS system accuracy, please follow steps (i-vii) below. If not, skip this section and move on to (b).
i. Can the concern be duplicated? If so, please provide the steps necessary to reproduce and if possible, a video showing the steps and concern.
ii. Is the concern observed in a specific location?
iii. If GPS accuracy is always poor regardless of route, open the Navi System Sensor screen. To access, press and hold the Home button and press the Tune knob 6 times, then release the home button.  In the dealer menu, select: "Function check" > "Navi System Sensor" (See screenshot to the right).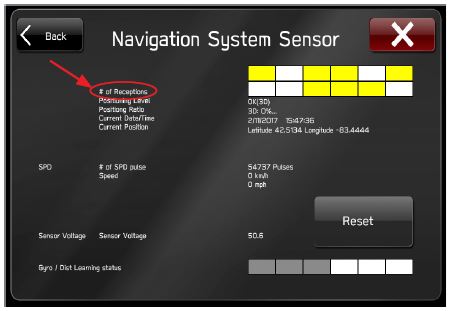 iv. Confirm the system has acquired satellite signals as indicated by the "# of Receptions" field. Yellow markers indicate the number of satellites acquired.  If possible capture a picture of this screen as well.
v. If no signal is observed (no yellow markers), ensure the vehicle is parked in an area with access to clear sky. If the vehicle still does not have a signal, investigate GPS antenna.  Confirm the GPS antenna is connected and fully seated into the grey (fakra) connector on head unit and there is no damage to the cable or antenna.
vi. If the condition persists after checking GPS antenna, try swapping the head unit with a known good unit.
vii. If the component swap addressed the concern, request an exchange unit.
IMPORTANT CAUTION: Always disconnect the Telematics Data Communication Module (DCM) BEFORE any swapping of head units.  DCMs must NEVER be swapped or the customer's services will not function and DCM replacement may be required to resolve.
b. For issues with search results or Point of Interest (POI) list entries, please follow (i-ii) below. If not, skip this section and move on to (c).
i. Can the concern be duplicated? If so, please provide steps required to reproduce it and if possible, a video showing the steps and concern.  Please note the address or search result(s) for when the concern occurs.
ii. Please note the Software Version and the Database version. This is found under Settings > General > System Information. (See below for an example of the System Information screen with the Software and Navigation Database Version displayed.)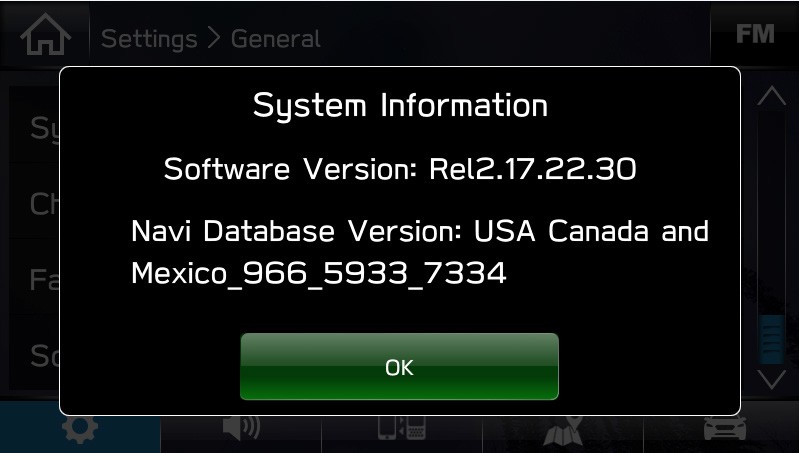 c. For other navigation or GPS issues, please follow Service Manual procedure for basic diagnostics: "WRONG LOCATION OF VEHICLE, NO GPS RECEPTION".
i. See the image below for Connection verification testing.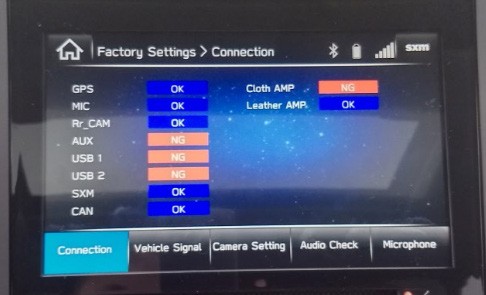 2) If the above steps do not resolve the customer's NAVI/GPS related concerns, complete a fresh Harman Investigation Guide Questionnaire documenting the customer's concern and the results of each diagnostic step in this bulletin.  If possible, capture a video of the condition then contact the SOA Techline to review the next steps.  Techline will request the completed questionnaire, step-by-step bulletin test results and any videos of the condition.
WARRANTY / CLAIM INFORMATION:
For vehicles within the Basic New Car Limited Warranty period or covered by an active Subaru Added Security Gold plan, this repair may be submitted using the following claim information:
Labor Description
Labor Operation #
Labor
Time
 Fail
Code
HARMAN NAVIGATION TROUBLESHOOTING
A031-181
0.5
ZRO-43
IMPORTANT REMINDERS:
SOA strongly discourages the printing and/or local storage of service information as previously released information and electronic publications may be updated at any time.
Always check for any open recalls or campaigns anytime a vehicle is in for servicing.
Always refer to STIS for the latest service information before performing any repairs.
---
NUMBER: 15-227-18R
DATE: 08/21/18
REVISED: 09/05/18
https://www.nhtsa.gov/recalls?nhtsaId=10146469
https://static.nhtsa.gov/odi/tsbs/2018/MC-10146469-9999.pdf
---
NUMBER: 15-227-18
DATE: 08/21/18
https://www.nhtsa.gov/recalls?nhtsaId=10144885
https://static.nhtsa.gov/odi/tsbs/2018/MC-10144885-9999.pdf
---
Bestseller No. 1
Sale
Bestseller No. 2
Garmin Drive 50 USA LM GPS Navigator System with Lifetime Maps, Spoken Turn-By-Turn Directions, Direct Access, Driver Alerts, and Foursquare Data
DRIVER ALERTS - Receive alerts for upcoming sharp curves, speed changes, school zones, a fatigue warning, nearby red light and speed cameras and more
EASY TO USE - Dedicated GPS navigators display current street, current speed, speed limit and arrival time
GARMIN REAL DIRECTIONS - Guides like a friend, using recognizable landmarks, buildings and traffic lights. Display type : WQVGA color TFT with white backlight
FOURSQUARE - Preloaded data from Foursquare adds millions of new and popular stores, restaurants and more. Display resolution 480 x 272 pixels
DIRECT ACCESS - Simplifies navigating to select complex destinations, such as malls and airports ; rechargeable lithium-ion. Battery life up to 1 hour
Sale
Bestseller No. 3
FLOUREON GPS Navigator 7.0 inch GPS Navigation System with Lifetime US/Canada/Mexico Maps Spoken Turn-by-Turn Directions Direct Access Driver Alerts for Car Vehicle Truck Taxi (Black)
7" Touch Screen LCD display,Resolution:800*480 pixels. Support External Micro SD(up to 32GB extra storage), Note: 2018 latest Map download: https://s3.amazonaws.com/ebayimg.appinthestore.com/001gary/North+America+2018.rar
This GPS navigator is mainly used for navigating and also has the optional of video paying, audio playing, FM,
Life time free maps update, feel free to contact us to update, pre-installed North & South America maps. Suitable for the use of car, truck, emergency ambulance, bus and taxi.
Built-in speaker with FM transmitter function,navigation voice and music will be sent directly to the car's speakers, volume adjustable for different need; voice remind the speed limit and making a turn, main street names(some remote areas might not be recognizable)
One Year Warranty and Friendly Customer Service,All Floureon GPS Navigators have 1 year warranty, 100% satisfaction and zero hassle returns guaranteed. We provide 7/24 friendly technological support and customer service.
Bestseller No. 4
Bestseller No. 5
Truck GPS Navigation System Xgody 886 7 Inch Capacitive Touch Screen SAT NAV Navigator for Car with Lifetime US Maps Updated Sunshade Support Speed and Red Light Warning
🚗 Lifetime Map Updated FOR FREE,we have preload latest maps of All America maps for your sat nav, include: Argentina, Brazil, Canada, Chile, Colombia, Costa Rica, Mexico, United States. Xgody gps navigation for car provides 3D maps with 3D building. 2D Maps is also available.
🚗 Comes with 8GB ROM which is more than enough for the GPS software and also for a few movie. The colors feels natural, comfortable for your eyes
🚗 Providing intelligent route planing and sound warning, Telling speed limit and estimated arrival time. Helps you safely drive. You can use it when driving, walking, riding, or waiting for a meeting.
🚗 7-inch LCD Touch Screen High Definition 800 x 480 pixels, really easy to use with only your finger. Comes with sun shade visor, super function block the sun, Used to block the sun during the day, night navigation systems for preventing reflection windscreen.
Bestseller No. 6
GPS Navigation for Car, 7 Inch Car GPS Updated LCD Touch Screen GPS Navigation System, Multi-Media Car Vehicle Electronics Lifetime Free Maps
7 inch large touch screen react fast with no delay. 8GB ROM plenty of room for you to storage the maps in case your need for intercontinent trips . And also comes with a car charger, back bracket mount and sunshade.
Free Lifetime Maps keeps you map current with updates up to twice a year. Please check the instruction in the box to update the map or contact us via Amazon message for further information.
3D Navigation select landmarks in 3D to help you place your position with the real world. It makes you easily choose exactly which lane to take before you approach an exit, turn or difficult intersection.
You can customize a better route according to your vehicle's weight, length, height and width, thus avoiding the roads which have width restrictions or height restriction or weight restriction, etc.
We offer you 100% satisfaction 90 days hassle free money back guarantee, and lifetime warranty. If you have any questions about the product, please contact us via Amazon message. We will reply you in 24 hours.
Sale
Bestseller No. 7
Sale
Bestseller No. 8
Bestseller No. 9
Garmin 010-01681-02 DriveSmart 61 NA LMT-S GPS w/Smart Features (Renewed)
Includes all original accessories plus a 1 Year warranty
Garmin DriveSmart 61 NA LMT-S GPS w/ Smart Features
The DriveSmart 61 navigator is loaded with helpful driver alerts, live services and up-to-date content so you can always drive with confidence. The future is on your Garmin. Just look ahead and drive.
In The BOX INCLUDES: Garmin DriveSmart 61 NA LMT-S GPS | Vehicle Suction Cup Mount | Vehicle Power Cable | USB Cable | Quick Start Manual | Limited 1-Year Warranty
Bestseller No. 10
Last update on 2019-04-10 / Affiliate links / Images from Amazon Product Advertising API
Last update on 2019-04-10 / Affiliate links / Images from Amazon Product Advertising API